GOD'S WILL FOR ME
by Thomas Adams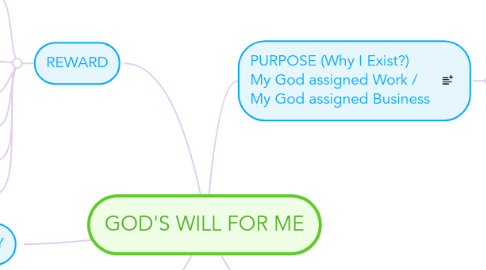 1. Mind-set
1.1. God is my only Boss (Boss = Owner)
1.1.1. I totally submit to the will of God.
1.1.1.1. Whatever he says, I will do.
1.1.1.2. Whatever is his purpose/work/business for me, I will do.
1.1.2. My purpose/work/business assigned by God, is known by my passion (strong chronic desire in my heart).
1.1.3. I work for God
1.1.4. My reward for my work comes from God
1.2. Everything Purposeful (No purposeless activities)
1.3. Everything in due season
1.3.1. Time to Sow, Time to Nurture, Time to Harvest. NO INSTANT SUCCESS.
1.3.2. Commitment until at least 3-5 Years
1.4. Rejoice micro-growth.
1.5. People Glorify God when they see my work & attitude.
1.5.1. "Wow! How you do that?"
1.5.2. "I did this by the grace of God!"
1.5.3. No Self Glorification
1.5.4. All Glory to God (All things come from God)
2. PURPOSE (Why I Exist?) My God assigned Work / My God assigned Business
2.1. Serve my Client Dr Lee to build Heal Within™
2.1.1. HEAL Patients
2.1.2. Fulfil Promises: (Fulfil Contractual Obligations)
2.1.3. Fulfil Promises with EXCELLENCE & SPEED (Do more than what is asked, and much faster than expected)
2.1.4. Give More
2.1.4.1. Housing for Team
2.1.4.2. ???
2.1.5. FINAL GOAL: Build Hospital with Dr Lee
2.2. Honor Parents
2.3. Accounts
3. WORSHIP & PRAY
4. KEEP MY BODY HEALTHY, FIT & BEAUTIFUL
4.1. Food & Nutrition
4.2. Exercise
4.3. Rest
5. REWARD
5.1. Basics
5.1.1. Food
5.1.2. Clothing
5.1.3. Shelter
5.2. Good Health
5.3. Wealth
5.4. Honor & Respect
5.5. Rich & Wise Husband
5.6. Family & Children
6. STUDY
6.1. Healthcare
6.2. Housing Rental