Incremental and Radical Innovation: Desing Research vs Technology and meaning change
by Andrés Quintero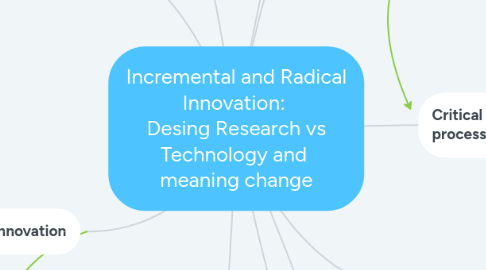 1. Criteria for identifying an innovation as radical
1.1. Must be novel
1.2. Must be unique
1.3. Must be adopted
1.3.1. Only if market and cultural forces are aling
2. Incremental Innovation
2.1. HCD ("Human Centered Design")
2.2. Careful analysis of person's or society's needs
2.3. Improvements within a given frame of solutions
3. HCD
3.1. -Iterative Cycle of Investigation -Ideation Phase -Rapid Prototype and Testing
3.2. Only suitable for Incremental Innovation
3.3. Weak on Radical Innovation
4. It's a form of "Hill Climbing"
4.1. Incremental Enhancements
4.2. Finds local optimization
4.3. It is commonly constituted by: - Product Quality (Along the vertical axe) - Design Parameters (Along the horizontal axe)
4.4. Gets trapped in local maxima
5. Design is: Making sense of things
6. Radical Innovation
6.1. Come about through changes in meaning
6.2. No researches
6.3. Driven by Technology Changes
6.4. Introduction of a new technology
6.5. A change of frame
7. Main Questions
7.1. What type of research is conducted on the meaning of things?
7.2. To what types of innovative outputs can this research lead?
7.3. How are the two concepts, desing research and design innovation related?
8. Critical Components of the HCD process
8.1. It starts by analyzing user needs and then searchs for technologies
8.2. Then goes to an iterative process of rapid prototyping and testing
9. 4 Types of innovations
9.1. Technology-push innovation
9.2. Meaning-driven innovation
9.3. Technology epiphanies
9.4. Market-Pull innovations
10. Product research four quadrants
10.1. Basic design research
10.2. Design- driven research
10.3. Human-Centered Research
10.4. Tinkering