Ocean and Sea shore
by Tiffany Parrish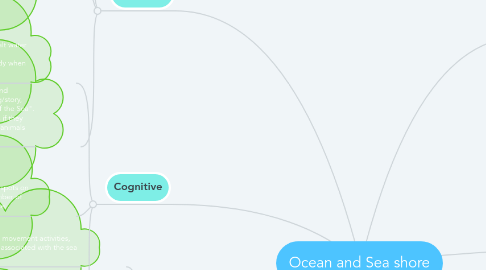 1. Social
1.1. Have the children vote using a democratic process to decide their snack for the next day.
1.2. Have the children come up one at a time and say their name and what letter it starts with, and see if the class can come up with something that starts with the same letter that is associated with the ocean.
1.3. Read the book "Only One You" and have the children paint rocks together that will be turned into fish.
2. Affective
2.1. Read the book, "Abigale the Happy Whale" to help children learn about pollution in the ocean. Discuss how the whale feels after the story and relate to the children's feelings.
2.2. Read The Pout Pout Fish and make pout pout fish with speech bubbles that state what makes the children "dreary Weary" and "cheery cheery"
2.3. Have the children play an emotions matching game with ocean creatures
3. Aesthetic
3.1. Make sun catcher jellyfish with the children.
3.2. Make coral out of colored pipe cleaners.
3.3. Use the book with illustrations and accompanying CD with the song/story, "There's a Hole in the Bottom of the Sea". Have children act out a scene as if they were in a submarine looking for animals under the sea.
4. Cognitive
4.1. Have clear containers, one with salt water and one with tap water. See how lightweight objects react differently when dropped into the water.
4.2. Roll the dice and fill in empty spots on seahorse by counting the number of markers to put on the seahorse.
4.3. Who lives in the ocean activity. Match animals to their habitat
5. Physical
5.1. Play dice game with movement activities, the activities will be associated with the sea shore and ocean
5.2. Move like sea creatures
5.3. Have the children see if they can walk like crabs.
6. Language
6.1. Read the book, "A House for Hermit Crab". After the children have read the book, have them do a felt story board and act out the book.
6.2. Make and ocean book, it will have animals to color and the name of animal for the children to trace
6.3. Feed the shark rhyming words.