Como he afianzado mis conocimientos sobre maquillaje de uñas y rostro
by paola villegas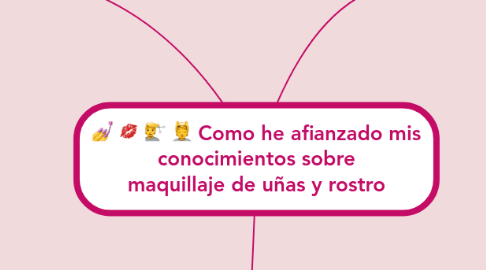 1. Eje 1: Redes Sociales
1.1. El facebook me ha permitido obtener informacion rápida y en cualquier lugar, dependiendo de mis gustos e intereses
1.1.1. Ideas para uñas y cabello
1.1.2. Uñas, maquillaje y más
1.2. El instagram es de gran interes para mi por que puedo observar tendencias en uñas y maquillaje, ademas de productos nuevos y llamativos
1.2.1. NYX Professional Makeup (@nyxcosmetics) • Instagram photos and videos
1.2.2. MASGLO BELLEZA PROFESIONAL (@masglo_oficial) • Instagram photos and videos
1.3. Mediante Youtube puedo ver tutoriales paso a paso, que me ayudan a mejorar mis tecnicas y aprender nuevas
1.3.1. The Power of MAKEUP!
1.3.2. PIMPEA TU PINCEL DE UÑAS PARA DEGRADADOS PERFECTOS
2. Eje 2: Revistas Digitales
2.1. Gracias a las revistas digitales puedo obtener mayor informacion sobre mis intereses, lo cual me ha permitido adquirir amplio conocimiento en tendencias mundiales de maquillaje, decoración de uñas, moda etc. A la vez que me han servido como catalogo para realizar los diversos diseños.
2.1.1. Maquillaje - Revista y guí­a en femenino para las mujeres
2.1.2. WOMAN | Belleza
2.1.3. Decorado de uñas - esBelleza.com
3. Eje 3: Blog
3.1. Los Blog al igual que las redes sociales y las revistas digitales me han permitido tener muchas referencias para realizar mis maquillajes y decoración de uñas, ayudándome con sus paso a paso.
3.1.1. Mi Manicura | El primer blog sobre manicura casera
3.1.2. Blog de maquillaje. Blog de belleza, cosmética y otras cosas relacionadas con el placer de estar y ponerse guapa.