American Entrepreneurs Comparison
by Dylan Lara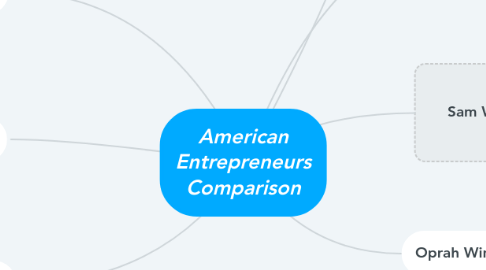 1. Sam Walton
1.1. Sam borrowed a loan of 25,000$ to start his first market.
1.1.1. That markets can have good business in rural areas
1.1.1.1. Walton wanted to make stores in rural areas but his friend didn't agree so he went on his own
1.1.1.1.1. graduated with a degree in economics in 1940.
2. Estee Lauder
2.1. started a beauty company with a skin cream developed by her chemist uncle
2.1.1. Lauder showed her interest in beauty at an early age. She loved to brush her mother's long hair and apply creams to her face
2.1.1.1. She was only a teenager when she started selling her products at local hair salons. Lauder marketed her wares as "jars of hope" and even gave out free samples
3. Robert Johnson
3.1. Johnson and his wife Sheila founded Black Entertainment Television, the first cable network targeting the African-American market
3.1.1. He spent the majority of his childhood in Freeport, Illinois
3.1.1.1. more than $1 billion, making him the richest African American in the United States at that time as well as the first African-American billionaire.
3.1.1.1.1. earned a master's degree in international affairs from Princeton University.
4. lionel Sosa
4.1. he was Chairman of DMB&B/Americas, a network of 23 ad agencies in the U.S
4.1.1. He is the author of The Americano Dream: How Latinos Can Achieve Success in Business and in Life, published in 1998 by Dutton.
4.1.1.1. Lionel was named to the Texas Business Hall of Fame and was selected as one of the 25 Most Influential Texans
4.1.1.1.1. grew up in San Antonio, Texas. After graduating from Lanier High School
5. Oprah Winfrey
5.1. She entered Tennessee State University in 1971 and began working in radio and television broadcasting in Nashville.
5.1.1. she was sexually abused by a number of male relatives and friends of her mother
5.1.1.1. she went on a show and stated talking about her life she hosted the TV chat show People Are Talking
5.1.1.1.1. She entered Tennessee State University
6. Bill Gates
6.1. Through technological innovation,
6.1.1. Gates Started showing interest in computer programming at the age of 13
6.1.1.1. Gates seemed board at times and his parents felt he was going to be a loner.
6.1.1.1.1. Gates dropped out of Howard University
7.  How did each person secure the financing or other support necessary for his/her work?  How did the innovator's socioeconomic background influence his/her success in this area?  To what extent were the results dependent on his/her personality?  What role did education (or lack thereof) play in the progress of the individual's achievements?