stredoveká lit. (5.-15.st)
by Martin Studený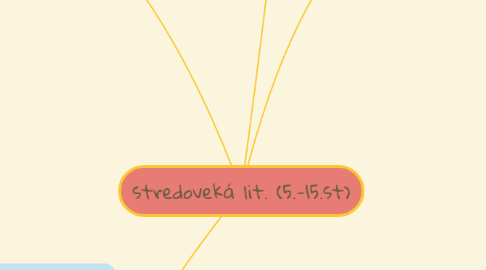 1. Guidelines
1.1. Anything goes!
1.2. No criticism or flaming allowed
1.3. The Wilder The Better
1.4. Quantity is Quality
1.5. Set a Time Limit
2. *obdobie ranofeudálnych štátov *SVK-časť Samovej ríše, VM, Uhorska *svetonázor-kresťanská ideológia *cirkevné a svetské autority- nespochybniteľné *život a príroda-pominuteľné
3. znaky stredovekej lit.
3.1. kvetnatý reč.štýl
3.2. ústne podanie lit.
3.3. iluminácie
3.4. anonymita diel
3.5. sykretizmus (druhov aj žánrov)
3.6. alegória, symboly
3.7. hl.hrdina-rytier/svätec
3.8. nadzmyselnosť
4. hrdina- má dané vlastnosti (ustálené,všeobecné), je zidealizovaný
4.1. svätec
4.1.1. viera
4.1.2. múdrosť
4.1.3. pokora
4.1.4. askéza
4.1.5. pustovník
4.1.6. zázraky
4.2. rytier/šľachtic
4.2.1. odvaha
4.2.2. sila
4.2.3. oddanosť
4.2.4. obetavosť
4.2.5. dobrý kresťan
5. slovenská stredoveká lit.(800-1500)
5.1. staroslovienske obdobie(9.-10.st.)
5.1.1. lit.dedičstvo VM
5.1.2. Konštatntín a Metod+žiaci na území SVK - 1. Slovan. písmo - Hlaholika
5.1.3. pamiatky - Konštantín: Proglas, Moravsko-Panónske legendy (Kliment: Život sv. Konštantína, Gorazd: Život sv. Metoda
5.2. obdobie latinskej lit. kultúry 11.-15.st)
5.2.1. lit. dedičstvo UH
5.2.2. od 11.st.- SVK časť UH
5.2.3. dominantný jazyk-latinčina (vyučovací/administratívny
5.2.4. pamiatky-Maurus: Legenda o sv. Svoradovi a Benediktovi