Påskeferien
by Nikolai Busk Pedersen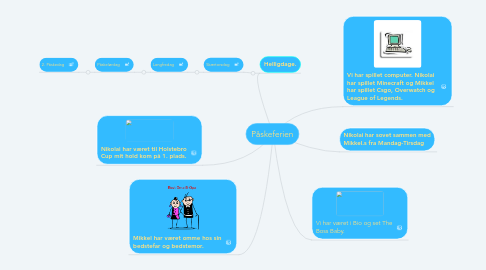 1. Vi har været i Bio og set The Boss Baby.
2. Nikolai har været til Holstebro Cup mit hold kom på 1. plads.
3. Mikkel har været omme hos sin bedstefar og bedstemor.
4. Helligdage.
4.1. Skærtorsdag
4.1.1. Langfredag
4.1.1.1. Påskelørdag
4.1.1.1.1. 2. Påskedag
5. Vi har spillet computer. Nikolai har spillet Minecraft og Mikkel har spillet Csgo, Overwatch og League of Legends.
6. Nikolai har sovet sammen med Mikkel.s fra Mandag-Tirsdag