THE MALLEUS MALEFICARUM V. THE FORMICARIUS
by Kyle User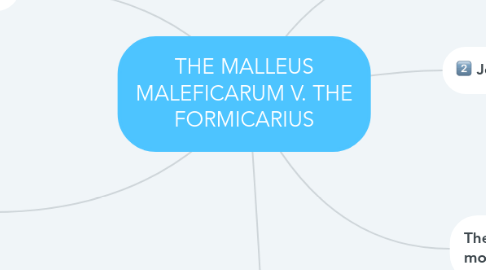 1. Micheal Bailey
1.1. Wrote Battling Demons which was a book about Nider and described both his life as a theologian but as a catholic church reformer.
2. Johannes Nider
2.1. The Formicarius was Nider's primary literature that talked about the mindset of witchcraft and questioned their exsistence on a more analytical level rather than just explaining how to kill them.
3. Tamer Herzig
3.1. Wrote an article on how Heinrich Kramer handled heresy.
4. The Formicarius- A book about more than just killing witches
4.1. The Formicarius was written first and it led to the popular and modern understanding of witches as we see them now. Unlike the Malleus the Formicarius introduced women as the primary magic users and proceeded to analyze them on a spiritual and religious level versus just killing them.
4.2. Johannes Nider wrote in ~1436
5. The Malleus Maleficarium- A book about killing witches.
5.1. The Malleus or Hammer of Witches was basically a detailed guidebook on what witchcraft was and why witches were evil and how exactly to go about destroying them. Whether it be through torture to force a confession that leads to execution or just straight execution. It explains how to kill and/or trap witches.
5.2. Heinrich Kramer wrote in 1487
6. PRIMARY ARGUMENT- Which literature is better. Historiographical argument of whether the Malleus or The Formicarius is the main literature for Witchcraft.