Thera-Puppies
by Cheney Meell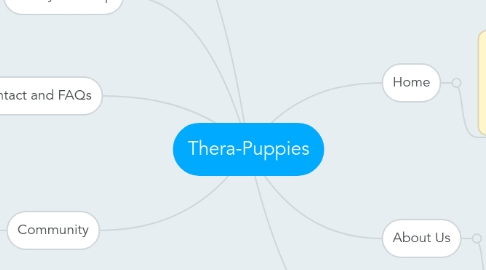 1. Home
1.1. Header photo, drawing interest of viewers with a button linked to the community page. Featured photos of dogs that have been submitted to the site to grab visitors' attention right away that link to other pages on the site.
1.1.1. Logo: The orginal logo and name of the website will always be found at the top of the page. (along with every page of the site)
1.1.2. Digital Photo Editing: photos on the homepage will be slightly edited to be more eye-catching for the viewers
1.1.3. Graphic Design and QR Code: Flyer is found on homepage with a QR code to be scanned when flyer is handed out. Code takes the viewer directly to the website's homepage
2. About Us
2.1. Detailed description of why we were founded and the main driving point behind the website. Information about the creator as well.
2.1.1. Screencast: instruction for the visitors about how to navigate the site and also more information about Thera-Puppies from the creator herself.
3. Resources
3.1. This will include links to contribute to the service dog community and find out more about just how much they can help others.
3.1.1. Video/Animation: this tab will include a video depicting the difference that the love of a dog can make in the life of someone who may be going through a difficult time.
4. Certify Your Pup
4.1. This tab will have information and links to follow and find out more about what it means to register your dog as a service dog
4.1.1. Infographic: showing information about the benefits of registering your dog as an emotional support dog/service dog
5. Contact and FAQs
5.1. This page will be for FAQs about Thera-Puppies and also be open for people to ask any questions they may have
5.1.1. Google Form: Visitors can fill out a Google Form with any questions they may have and can also choose to sign up for our mailing list
6. Community
6.1. This page will include submitted photos of dogs sent in by viewers with blurbs written for each, a tab to submit YOUR dog, along with links to our social media
6.1.1. App Prototype (continued): I will design an app that is the smartphone version of the website, where viewers can see news feed of new submitted dogs every day. We will also have a news tab to report on any news in the service dog community.
6.1.2. Social media: links will be provided to our twitter page and our blog where people can share their personal experiences with service and emotional therapy dogs
7. Tagline: Brightening "pup" your life, one dog at a time!