Requirements for development to World Garden Tours (WGT) company( group 5)
by hongyi zhang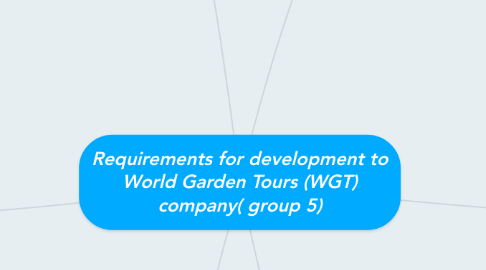 1. Enterprise resource planning system( Karan)
1.1. Enterprise Resource Planning (ERP) System [Karankumar Patel]
1.1.1. Sales and marketing
1.1.1.1. Sales order management
1.1.1.1.1. Recording sales
1.1.1.1.2. Reports on sales
1.1.1.1.3. Reports to CEO
1.1.1.1.4. Reports for future planning
1.1.1.2. After market sales and service
1.1.1.2.1. Helpful tips
1.1.1.2.2. Money exchange services
1.1.1.2.3. Travel insurance
1.1.1.2.4. Luggage insurance
1.1.1.3. Order fulfilment
1.1.1.3.1. Customer demands
1.1.1.3.2. Offering specials
1.1.1.4. Customer feedbacks
1.1.1.4.1. Survey
1.1.1.5. Online marketing
1.1.1.5.1. Discounts
1.1.1.5.2. Season offers
1.1.1.6. Customer handling
1.1.1.6.1. Customer care
1.1.1.6.2. Satisfying customer needs
1.1.2. Finance
1.1.2.1. Financial management reporting
1.1.2.1.1. Reports to CEO
1.1.2.1.2. Reports for taxation
1.1.2.2. Finance, budget and planning
1.1.2.2.1. Future business planning
1.1.2.3. Strategy management
1.1.2.3.1. Future investments
1.1.2.3.2. Profitable offers
1.1.2.4. Annual reports
1.1.2.4.1. Data of Annual reports each year
1.1.2.4.2. Comparison of profit and sales
1.1.2.4.3. Government for Income tax
1.1.2.5. Profit and loss management
1.1.2.5.1. Plan to avoid loss
1.1.2.5.2. Plan to make more profit
1.1.3. Information technology (IT)
1.1.3.1. Business software development
1.1.3.1.1. Business information storage software
1.1.3.1.2. Other software for business
1.1.3.2. Website development
1.1.3.2.1. New features and options
1.1.3.2.2. Easy accessible website
1.1.3.3. Data security system
1.1.3.3.1. Business data information
1.1.3.3.2. Customer information
1.1.3.4. Online security system
1.1.3.4.1. Online customer ID security
1.1.3.4.2. Online transaction security
1.1.4. HR Management
1.1.4.1. Human resource management
1.1.4.1.1. Recruitment
1.1.4.1.2. Employment manager
1.1.4.1.3. Discipline and ethics
1.1.4.1.4. Productivity
1.1.4.1.5. Workforce reports
1.1.5. Reference: Yuza Debbie. (2013). ERP System. Retrieved from http://creately.com/diagram/example/hlnjqy16/ERP%20SYSTEM
1.1.6. Reference: Project management - ERP implementation. (2010, May 16). Retrieved fromhttp://projectmanagement-erpimplementation.blogspot.co.nz/
2. Recruitment of new staff(FANG, JIE)
2.1. Master Planner
2.1.1. Including leaders and responsible officers
2.1.1.1. direct impact on information technology
2.1.1.2. work of the company  level
2.2. Implement the developer
2.2.1. Technical manager
2.2.2. Information Technology Developers
2.2.3. Information Analysis Processors
2.3. Apply the operator
2.3.1. For computer operation
2.3.2. Make comments and suggestions
2.4. Technology developers
2.4.1. Development and innovation
2.4.2. Development object
2.4.2.1. Equipment and tools development
2.4.2.2. Improve the production environment
2.4.3. Development approach
2.4.3.1. Introduction of the type of technology development
2.4.3.2. Original type of technology development path
2.4.3.3. Summarize and improved technology development approach
2.5. Database administrator
2.5.1. Responsible for managing
2.5.1.1. The installation of the database
2.5.1.2. Monitoring, backup, recovery
2.5.2. Capacity requirements
2.5.2.1. Understand data backup
2.5.2.2. Know how to monitor and optimize database performance
2.5.2.3. research new version
2.5.2.4. Database security and design
2.6. manager
2.6.1. specialized knowledge
2.6.1.1. know data structure
2.6.1.2. relational database
2.6.1.3. compiler theory
2.6.2. Management knowledge
2.6.2.1. project planning
2.6.2.2. risk forecasting
2.6.2.3. cost accounting
2.7. reference
2.7.1. Retrieved from http://baike.baidu.com/item/%E4%BF%A1%E6%81%AF%E7%AE%A1%E7%90%86/450895?fr=aladdin
3. taking advantage of emerging technologies(HONGYI)
3.1. Wireless Conference Rooms
3.1.1. connects offices, employees and clients and makes sharing and collaborating easier for everyone involved, no matter their location
3.1.1.1. Kramer
3.1.1.2. Forbes
3.1.1.3. Samsung BusinessVoice
3.2. IoT in the Enterprise
3.2.1. manual entry will become increasingly unnecessary, limiting mistakes and freeing up more time for employees to focus on applying that data and less time entering it.
3.2.2. accelerate the existing trend of employee mobility, allowing workers to be far more productive — no matter where in the world they are located.
3.3. 3D Printing
3.3.1. increased innovation and reduced manufacturing costs.
3.4. Augmented Reality
3.4.1. Itinerary are better received when they're shown, not told
3.4.2. Holographic computing devices pesent a unique opportunity to bring products and information to life
3.4.3. AR devices show designs, collaborate remotely and see and learn new things in relation to the real world
3.5. Reference
3.5.1. retrieved from;http://www.waterstechnology.com/waters/feature/2332545/a-delicate-balance
4. Decision support system(HONGYI)
4.1. Database Management System(DBMS)
4.1.1. Internal data
4.1.1.1. eg: Financial index data
4.1.2. External data
4.1.2.1. eg:Internal accounting data
4.2. Model-base Managemt System(MBMS)
4.2.1. To meet the needs of different users of the model
4.2.2. To meet the needs of different users of the model
4.2.3. With the ability to integrate patterns and data Provides an easy-to-use interface
4.2.4. Ability to share patterns
4.3. Dialog Genernation and Management System(DGMS)
4.3.1. The Action Language
4.3.2. Display or Presentation Language
4.3.3. Knowledge Base
4.4. Reference
4.4.1. Keen, Peter; (1980),"Decision support systems : a research perspective."Cambridge, Mass. : Center for Information Systems Research, Alfred P. Sloan School of Management.http://hdl.handle.net/1721.1/47172
4.4.2. Haag, Cummings, ㅊㄴㅋMcCubbrey, Pinsonneault, Donovan (2000). Management Informatㅍㅈion Systems: For The Information Age. McGraw-Hill Ryerson Limited: 136-140. ISBN 0-07-281947-2
5. Expert advices (Pengfei)
5.1. Improve the efficiency of e-commerce activities
5.1.1. For Transaction processing systems (TPS)
5.1.2. For knowledge of work system (KWS)
5.1.3. For Office system
5.1.4. For Decision support system (DSS)
5.1.5. For management information system (MIS)
5.1.6. For executive support system (ESS)
5.2. Providing reliable security of financial transactions
5.2.1. use of anti-virus software
5.2.2. use of authorized financial transaction tools
5.3. Making Disaster recovery plan
6. Security of Financial transactions(HODON)
6.1. Internet transactions
6.1.1. Online Banking
6.1.1.1. Credit card only
6.1.2. digital certificate
6.1.3. Latest browser
6.2. Mortagages
6.2.1. Legal Mortagages
6.2.2. Equitable Mortagege
6.3. Chargerges
6.3.1. Fixed Charges
6.3.2. Fixed charges
6.4. Shopping card
6.4.1. Electronic security
6.5. Reference: Out-Law.Com. (2016). Legal news and guidance from Pinsent Masons. Retrieved from www.out-law.com/topics/financial-services/banking/security-in-finance-transaction
6.6. This part is belongs to Hodon Ismail