ANALYSIS OF WRETCH 32- ANTWI
by Afzo 2k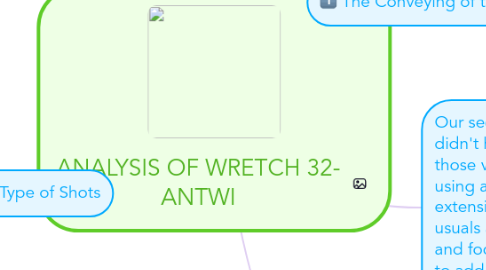 1. Influences
1.1. Our influences for this particular song involves Wiley and his 'Numbers' video as many of you may have seen.
1.2. Our other influence is Kano who we had initial thoughts to use his music.
1.3. We also had influences from Stormzy but was partially discredited because he is more of a grime hard hitter compared to Wretch 32.
2. Type of Shots
2.1. We plan on using medium range shots to focus more on the costume of the artist.
2.2. There will be points where we zoom in to show the lip sync but at certain intervals.
2.3. The shots we use will be similar to those used in old school films like cowboy movies etc.
3. The effects
3.1. The effects used in our video will be different.
3.2. We plan to use a similar green screen effect to daily duppy on GRM Daily.
3.3. The lighting will be different, there will be no rain dropping or anything like that.
4. The Conveying of the message
4.1. We plan to make the lyric flow and emphasise the narrative better.
4.2. We will be using a completely different costume. No hair will be shown throughout.
4.3. We plan show better synergy in our media product.
5. Our second choice of song, 'Pressure didn't have pre-made viusals therefore those videos will be done from scratch using a storyboard we have made extensively. On the other hand, Antwi usuals a dark, blacked out background and focuses directly on him. We plan to add some more colour and add vibrance.