My Self Portrait
by Jessica de Leon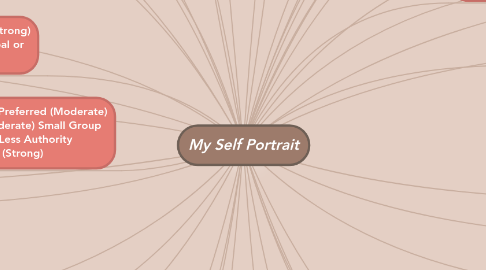 1. Gaming
2. My Multiple Intelligences Results
3. My Personality Spectrum Results
4. My O*Net Results
5. My Building Excellence Results
6. My Successful Intelligence Results
7. My Preferred Teaching Styles
8. Study Strategies
9. My Emotional Intelligence Results
10. Interests
11. Cello
12. Drawing
13. Anime
14. Writing
15. Psychology
16. Highest Score! Creative Thinking (48)
17. Lowest Scores! Analytical Thinking (41) Practical Thinking (41)
18. Highest Score! Musical (23)
19. Second Highest Score! Visual-Spatial (21) Verbal-Linguistic (21) Intrapersonal (21)
20. Third Highest Score! Logical-Mathematical (20)
21. Second Lowest Score! Interpersonal (18)
22. Lowest Score! Naturalistic (15) Bodily-Kinesthetic (15)
23. Highest Scores! Giver (28) Adventurer (28)
24. Lowest Scores! Thinker (12) Organizer (12)
25. Lowest Scores! Conventional (0) Realistic (0)
26. Second Lowest Score! Enterprising (2)
27. Third Highest! Investigative (4)
28. Second Highest Score! Social (19)
29. Highest Score! Artistic (36)
30. Perceptual: More Visual Picture (Strong) More Tactual (Strong) More Auditory  Verbal (Strong)
31. Psychological: Reflective (Strong) Integrated (Instead of Global or Analytical)
32. Enviromental: Low Light (Strong) Cool Temperature (Moderate)
33. Physiological: Not Early Morning (Strong) Late Morning/ Early Afternoon (Moderate) Late Afternoon (Strong) Not Evening (Moderate)
34. Emotional: Less Conforming (Strong) Less Structure (Strong)
35. Sociological: Alone Less Preferred (Moderate) Pair More Preferred (Moderate) Small Group More Preferred (Strong) Less Authority (Moderate) More Variety (Strong)
36. Non-monotonous voice
37. Uses Activities and Group Assignments to teach the subject.
38. Lowest Score! Self-Awareness (6/10)
39. Second Highest Scores! Social-Awareness (9/10) Relationship Management (9/10)
40. Highest Score! Self Management (10/10)
41. Encourages Class Discussion during the Lesson/ Lecture
42. Takes time to guide the class and actually teach the subject instead of just preparing the class for a test
43. Encourages the asking of questions (when appropriate of course)
44. Create Colored Flash Cards with key information for an upcoming test or exam.
45. Review Activities with a group or parnter
46. Redo previous homework