CLASSROOM TECHNOLOGY STANDARDS
by Thomas Shiell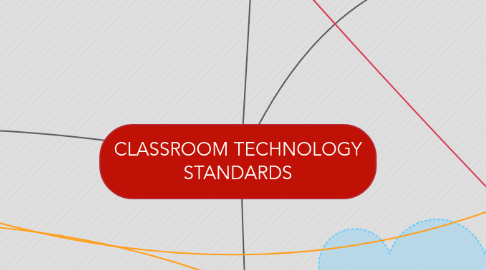 1. ISTE STANDARDS FOR TEACHERS
1.1. PROFESSIONAL GROWTH AND LEADERSHIP: Show leadership by promoting and demonstrating the proper use of digital tools and resources. Teachers must continue to improve skills and model lifelong learning.
1.2. STUDENT LEARNING AND CREATIVITY: Teachers use their subject knowledge and technology to advance student learning
1.3. DIGITAL CITIZENSHIP: Advocate and model safe and ethical use of digital technology.
1.4. DIGITAL AGE WORK: Teachers demonstrate knowledge, skills, and work processes that are becoming of a professional in a digital society
1.5. DIGITAL AGE LEARNING: Make use of technology to design and develop authentic learning experiences and assessments
2. ISTE STANDARDS FOR STUDENTS
2.1. EMPOWERED LEARNER: Students use technology to achieve and demonstrate competency in their learning.
2.2. DIGITAL CITIZEN: Recognize the rights and responsibilities of learning and engaging in the digital age.
2.3. KNOWLEDGE CONSTRUCTOR: Students build up their knowledge by using various digital tools.
2.4. CREATIVE COMMUNICATOR: Students are expected to communicate effectively by using a variety of technologies and digital media to achieve their learning objectives.
2.5. GLOBAL COLLABORATOR: Students use an array of digital tools to broaden their horizons and to collaborate with people around the world.
3. LEARNING & TECHNOLOGY POLICY FRAMEWORK
3.1. STUDENT CENTRED LEARNING: Technology is used to support personalized learning for each student across various subjects. It also instills within each student the principles of digital citizenship.
3.2. RESEARCH AND INNOVATION: All school staff play a role in advancing the level of technological education in their school, through the research and implementation of evidence based practices
3.3. PROFESSIONAL LEARNING: Teachers need to develop knowledge and skills that enable them to effectively use technology to support students.
3.4. LEADERSHIP: Educators at all levels play a role in implementing technology to support learning and innovation.
3.5. ACCESS, INFRASTRUCTURE & DIGITAL LEARNING ENVIRONMENTS: All school staff must have access to a wide array of devices and technology supports in order to deliver proper and meaningful instruction to students
4. ICT PROGRAM OF STUDIES
4.1. DIGITAL CITIZENSHIP: It is necessary for students to have a strong foundation in technology, in order to appreciate the moral and ethical implications of living in a digital world.
4.2. CREATIVE COMMUNICATOR: Effective communication is about using a variety of technologies and processes to disseminate information and find creative solutions.
4.3. DIGITAL AGE LEARNING: Students will develop the knowledge and skills required to productively utilize a variety of technologies.
4.4. ACCESS, INFRASTRUCTURE AND DIGITAL LEARNING: Technology is an important aspect in ensuring that all students have the appropriate processes, tools and techniques for success in education