Steps to Getting Your Course Ready
by Melanie A Gibson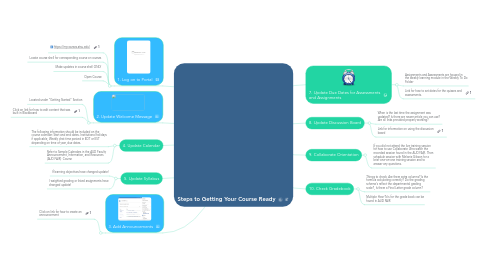 1. 1. Log on to Portal
1.1. https://mycourses.atsu.edu/
1.2. Locate course shell for corresponding course or courses
1.3. Make updates in course shell ONLY
1.4. Open Course
2. 2. Update Welcome Message
2.1. Located under "Getting Started" Section
2.2. Click on link for how to edit content that was built in Blackboard
3. 4. Update Calendar
3.1. The following information should be included on the course calendar: Start and end dates. Institutional holidays if applicable, Weekly chat time posted in EDT or EST depending on time of year, due dates.
3.2. Refer to Sample Calendars in the AUD Faculty Announcement, Information, and Resources (AUD FAIR)  Course
4. 5. Update Syllabus
4.1. If learning objectives have changed update!
4.2. I weighted grading or listed assignments have changed update!
5. 3. Add Announcements
5.1. Click on link for how to create an announcement
6. 7. Update Due Dates for Assessments and Assignments
6.1. Assignments and Assessments are housed in the weekly learning module in the Weekly To Do Folder
6.2. Link for how to set dates for the quizzes and assessments.
7. 8. Update Discussion Board
7.1. When is the last time the assignment was updated? Is there are newer article you can use? Are all links provided properly working?
7.2. Link for information on using the discussion board
8. 9. Collaborate Orientation
8.1. If you did not attend the live training session for how to use Collaborate Ultra watch the recorded session found in the AUD FAIR. Then schedule session with Melanie Gibson for a brief one-on-one training session and to answer any questions.
9. 10. Check Gradebook
9.1. Things to check: Are there extra columns? Is the formula calculating correctly? Do the grading schema's reflect the departmental grading scale?, Is there a Final Letter grade column?
9.2. Multiple How-To's for the grade book can be found in AUD FAIR