Explore O'ahu, Hawai'i
by Rachel Borney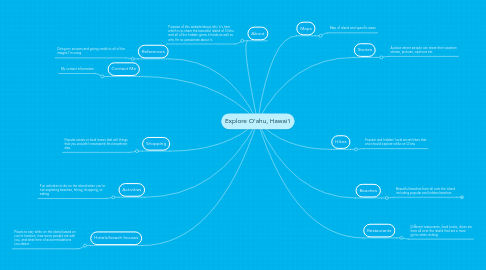 1. Hikes
1.1. Popular and hidden/ local secret hikes that one should explore while on O'ahu
2. Beaches
2.1. Beautiful beaches from all over the island including popular and hidden beaches
2.1.1. (what you finally did)
3. Hotels/beach houses
3.1. Places to stay while on the island based on you're location, how many people are with you, and what time of accommodations you desire
4. Activities
4.1. Fun activities to do on the island when you're not exploring beaches, hiking, shopping, or eating
5. Restaurants
5.1. Different restaurants, food trucks, dives etc from all over the island that are a must go-to when visiting
6. About
6.1. Purpose of this website/about why it's here which is to share the beautiful island of O'ahu and all of the hidden gems it holds as well as why I'm so passionate about it.
7. Shopping
7.1. Popular stores or local stores that sell things that you wouldn't necessarily find anywhere else.
8. References
8.1. Citing my sources and giving credit to all of the images I'm using
9. Contact Me
9.1. My contact information
10. Stories
10.1. A place where people can share their vacation stories, pictures, opinions etc.
11. Maps
11.1. Map of island and specific areas