INPUT AND OUTPUT DEVICES & HARD/SOFTWARE
by Patrice Hughes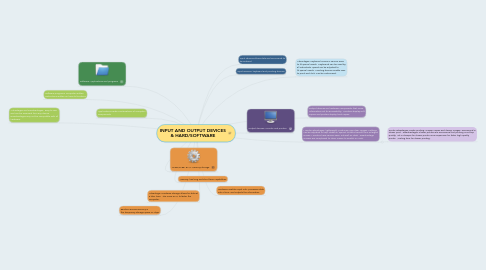 1. Advantages and Disadvantages:  Easy to use, and can be accessed from any device.  Disadvantages may not be compatible with all hardware.
2. Applications create combinations of computer components
3. Software programs: computer written instructions written on how its functions
4. Advantage: Hardware storage allows for data at a later time.  The more RAM to faster the computer.
5. Memory: has long and short term capabilities
6. Hardware enables input into, processes data into a form, and outputs the information
7. Monitor advantages: lightweight, produces crisp-clear images, Settings can be adjusted to help students. Special children benefit from enlarged screen. Monitors have various sizes. Fits well on desk.  Disadvantage screens are complexed to clean. Easier to scratch or crack.
7.1. Printer advantages: Faster printing, crispier copies and clearer images, economical is slower print.  Disadvantages: Slower printers are economical but printing is not top quality.  Ink is cheaper for slower printer more expensive for faster high quality printer.  Waiting time for slower printing.
8. Output devices are hardware components that move information out for accessibility.  Monitors display soft copies and printers display hard copies.
9. Advantages: Keyboard comes in various sizes to fit special needs.  Keyboards can be used by all individuals. Speed can be adjusted to fit special needs.  Pointing devices enable uses to point and click. Can be customized.
10. Input devices allows data and commands to be entered.
11. Input Devices: keyboard and pointing devices
12. Output devices: monitor and printers
13. HARDWARE: RAM, Memory, storage
14. Random access memory is the temporary storage space or chips
15. Software: Applications and programs