Función Avanzado
by NESTOR LEON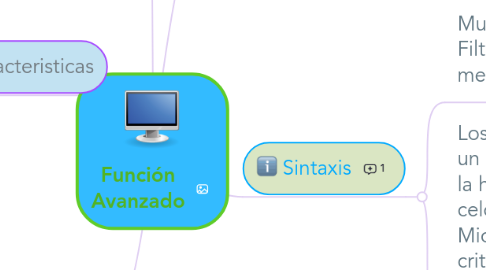 1. Definicion
1.1. Si los datos que desea filtrar requieren criterios complejos (como Tipo = "Alimentos" O Vendedor = "Davolio"), puede usar el cuadro de diálogo Filtro avanzado.
2. Sintaxis
2.1. Muestra el cuadro de diálogo Filtro avanzado en vez del menú de Autofiltro.
2.2. Los criterios avanzados se escriben en un rango de criterios independiente en la hoja de cálculo y sobre el rango de celdas o la tabla que desee filtrar. Microsoft Office Excel usa el rango de criterios independiente del cuadro de diálogo Filtro avanzado como el origen de los criterios avanzados.
3. Ventajas
3.1. Se pueden comparar dos valores con los siguientes operadores. Cuando se comparan dos valores usando estos operadores, el resultado es un valor lógico: VERDADERO o FALSO.
4. By the way, this is a floating topic. To create a floating topic, simply drag it away from the map center.
5. Caracteristicas
5.1. En Excel puedes realizar un filtrado de datos totalmente personalizado proporcionando los criterios que deseas aplicar a la información
5.2. Este tipo de filtrado es conocido como Filtro avanzado y en esta ocasión te mostraré cómo utilizarlo.
5.3. Los criterios por los cuales se realizará el filtrado deben especificarse dentro de celdas de la misma hoja. Supongamos que deseo filtrar los registros del departamento de Finanzas.
6. Ejemplo
6.1. Presione CTRL+C.
6.2. En la hoja de cálculo, seleccione la celda A1 y presione CTRL+V.
6.3. Para cambiar entre ver los resultados y las fórmulas que devuelven los resultados, presione Alt+º (ordinal masculino) o bien, en la ficha Fórmulas, en el grupo Auditoría de fórmulas, haga clic en el botón Mostrar fórmulas.
7. NESTOR LEON
8. 3 "B"
9. FUNCIÓN AVANZADO