Michigan's story: The History of Race at U-M
by taehwa lee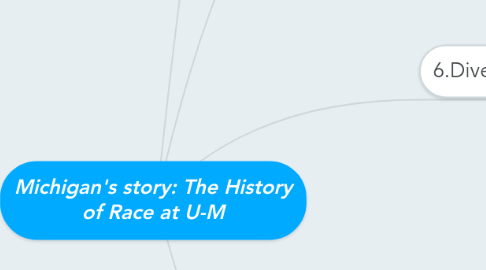 1. 4.Student Background
1.1. First Asian Students
1.1.1. Barbour Scholarships - The Barbour Scholarships for Oriental Women (now known as the Rackham Barbour Scholarship for Asian Women) were created at the bequest of Regent Levi L. Barbour in 1914
1.1.2. Japanese Students - In 1900, there were eight students form Japan at the University of Michigan
1.1.3. Sharkeswari Agha - Sharkeswari Agha received a B.A., M.A., and LL.B. from the University of Allahabad; then she completed her Master's degree in Education at U-M in 1930.  In India, she later served as the head of the Teacher Training Department of Crosthwaite College for Women
1.2. Students Advocates
1.2.1. E. Royster Harper As Vice President for Student Life, E. Royster Harper plays a significant role in the success of U-M students. Her office is responsible for a wide range of student-oriented services such as Housing, the Program on Intergroup Relations, Health Services, Counseling and Psychological Services, Student Legal Services, Services to Students with Disabilities, Career Center, Greek Life, and many more
1.2.2. Jim Toy Jim Toy, the son of a Chinese father and Scottish-Irish mother, achieved distinction as a long-time advocate for lesbian, gay, bisexual, transgender and queer (LGBTQ) persons
1.2.3. Tom Goss Tom Goss was born in Knoxville, Tennessee in 1946. In 1964, he enrolled at the University of Michigan. He played for the football team as a defensive lineman from 1964 to 1968
2. 5.Studies in Diversity - Cultural studies are carried out in various leading centers, departments, and institutes.
2.1. The Center for Chinese Studies which was founded in 1961
2.2. The Center for Japanese Studies since 1947
2.3. The Department of Afroamerican and African Studies (DAAS) founded in 1970
2.4. The College of Literature, Science, and the Arts (LSA)
3. 6.Diversity in Faculty
3.1. Albert Wheeler -First black tenured professor in 1953
3.2. Willis C. Patterson -First African American member of the music faculty
3.3. Wade Ellis -Associate Dean of the Graduate School and Professor of Mathematics in 1967
3.4. Harold Wright Cruse -Taught African American history in 1968
3.5. Jon Onye Lockard - Found the department of Afroamerican and African Studies
3.6. Charles Moody - First vice provost for Minority Affairs in 1987
4. 7.After U-M
4.1. Alumni Stories
4.1.1. Yi-Fang Wu - Ph. D in 1928 - Worked as a dean of the College of Arts and Science at Nanjing University and as Commissioner of Education for Jiangsu Province
4.1.2. William P. Bostic - Sergeant with the 301st Fighter Squadron (Tuskegee Airmen an African American fighter group) in 1940.
4.1.3. James R. Terrell - U-M's College of Literature, Science and the Arts in 1943 - Navy chaplain
4.2. Professional Careers
4.2.1. Marise Hadden - First African American woman to teach as an adjunct professor in the U-M School of Education
4.2.2. Theodore R. Speigner - First African American to receive a Ph.D. in conservation in 1961 - Professor of geography at North Carolina Central University
4.2.3. Alton A. Burton - Undergraduate and Master's degree in civil engineering from UM in 1950 -  Chief Civil Engineer at the World Trade Center