Non Profit Mind Map COAST Hamilton ON
by Ryan Swackhammer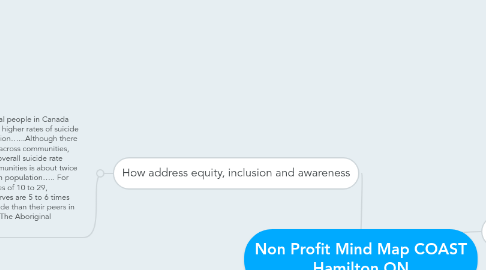 1. Services and Programs
1.1. COAST is a multidisciplinary team consisting of child and youth crisis workers, mental health workers, nurses, social workers and plain-clothes police officers. A mental health worker will respond to a call on the COAST crisis line and make a preliminary assessment regarding the mental health concern. The worker will determine whether to respond with telephone support or a mobile visit. If necessary, the COAST mobile team, consisting of two staff will respond to the crisis call. They will create a plan that might include other agencies or support networks. Clients requiring support or follow-up will receive assistance from the support team within 24 hours of the crisis situation. Children and youth may receive support or follow-up until either the crisis has been resolved or they have been linked to appropriate community resources. Psychiatric consultation, assessment and/or treatment is negotiated on an individual basis.
2. How address equity, inclusion and awareness
2.1. In recent years, Aboriginal people in Canada have suffered from much higher rates of suicide than the general population…...Although there are enormous variations across communities, bands, and nations, the overall suicide rate among First Nation communities is about twice that of the total Canadian population….. For Aboriginal people…..ages of 10 to 29, Aboriginal youth on reserves are 5 to 6 times more likely to die of suicide than their peers in the general population. (The Aboriginal Healing Foundation)
3. Vision and Goals
3.1. COAST Youth program in Hamilton (crisis outreach and support team) serves children and youth and their families who have mental health concerns and are in crisis. The COAST program serves the youth, adult, and senior population in Hamilton.