Australian Curriculum Technologies
by Ryan Bowden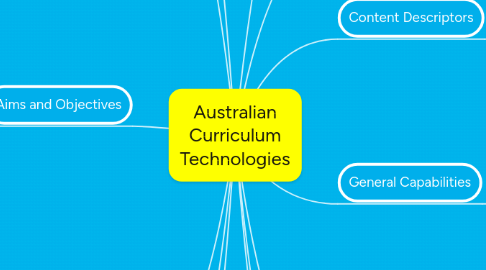 1. General Capabilities
1.1. Literacy
1.2. Numeracy
1.3. Information and Communication Technologies (ICT)
1.4. Critical and Creative Thinking
1.5. Personal and Social Capability
1.6. Ethical Understanding
1.7. Intercultural Understanding
2. Student Diversity
2.1. Students with a Disability
2.2. Gifted and Talented Students
2.3. English as an Additional Language or Dialect (EAL/EALD)
3. Aims and Objectives
3.1. Understanding
3.1.1. Understanding the roles and responsibilities of people in design and technologies occupations and their responsibilities and jobs contribute to society.
3.1.2. How technology advances over time and the impact technological development has had on society.
3.2. Skills
3.2.1. Making use of design systems, thinking to reach and communicate diversely
3.2.2. Manipulating a range of materials, systems, tools and equipment creatively, competently and safely, and managing processes.
3.2.3. Creating Solutions
3.2.4. Investigating Problems
3.2.5. Evaluating processes using continuous improvement framework.
3.2.6. Analysing Data
3.3. Knowledge
3.3.1. Lead to a sustainable future.
3.3.2. Developing confidence when students use technology effectively.
4. Links to Other Learning Areas
4.1. English
4.2. Mathematics
4.3. Science
4.4. The Arts
4.5. Humanities
4.6. Health and Physical Education
4.7. Languages
5. Cross Curriculum Priorities
5.1. Sustainability
5.2. Asia and Australia's Engagement with Asia
5.3. Aboriginal and Torres Strait Islanders History and Cultures
6. Key Concepts
6.1. Using Materials
6.1.1. Materials
6.1.2. Personel
6.1.3. Services
6.1.4. Duration
6.2. Exploring
6.3. Investigating
6.4. Personal Reflection
6.5. Critique Needs
6.6. Sequencing
6.6.1. Material and Technology Specialisations
7. Content Descriptors
7.1. Each year level branches out into two year level descriptors.
7.1.1. Design Technologies, Processes and Production Skills.
7.1.2. Design Technologies, Knowledge and Understanding.
8. Key Ideas
8.1. Thinking Skills
8.1.1. System Thinking
8.1.2. Design Thinking
8.1.3. Computational Thinking
8.2. Preferred Future
8.3. Project Management
9. In Contexts and Societies
9.1. Food and Fibre Production
9.2. Food Technologies
10. Year Levels
10.1. F-2
10.2. 3-4
10.3. 5-6
10.4. 7-8
10.5. 9-10
11. Subjects
11.1. Design Materials and Technology
11.2. Digital Technologies
12. Strands
12.1. Representation of Data
12.2. Define Project Development and Measurement
13. Process and Production Skills
13.1. Investigating
13.2. Generating
13.3. Producing
13.4. Evaluating
13.5. Collaborating and Managing