Australian Technologies Curriculum
by Annika Chesny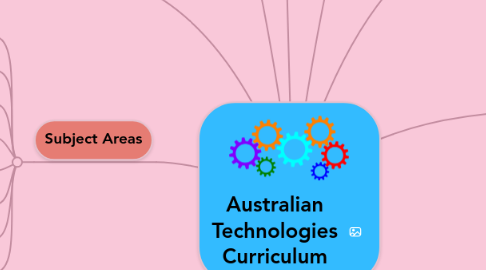 1. Strands
1.1. Design and Technologies
1.1.1. Knowledge and Understanding
1.1.1.1. Technologies and society
1.1.1.2. Technologies contexts
1.1.2. Processes and Production Skills
1.1.2.1. Creating designed solution
1.1.2.2. Designing, investigating, evaluating
1.2. Digital Technologies
1.2.1. Knowledge and Understanding
1.2.1.1. Digital systems
1.2.1.2. Representation of data
1.2.2. Processes and Production Skills
1.2.2.1. Collecting, managing and analysing data
1.2.2.2. Creating digital solutions
1.2.2.3. Designing, investigating, evaluating
1.2.3. Resources
1.2.3.1. LEGO Movie Maker App
1.2.3.1.1. http://dtm4260.edublogs.org/2016/08/01/lego-movie-maker-app/
1.2.3.2. Book Creator App
1.2.3.2.1. http://dtm4260.edublogs.org/2016/08/04/book-creator-app-for-ipad/
2. Band Levels
2.1. Foundation - Yr 2
2.2. Year 3 - Year 4
2.3. Year 5 - Year 6
2.4. Year 7 - Year 8
2.5. Year 9 - Year 10
3. General Capabilities
3.1. Literacy
3.2. Numeracy
3.3. ICT
3.4. Critical and Creative Thinking
3.5. Personal and Social Capability
3.6. Ethical Understanding
3.7. Intercultural Understanding
4. Key Ideas
4.1. Overarching idea: Creating preferred futures
4.2. Project management
4.3. Thinking in Technologies
4.3.1. Systems thinking
4.3.2. Design thinking
4.3.3. Computational thinking
4.3.4. ICT
4.3.5. Safety
4.3.6. Animal ethics
5. Cross-curriculum priorities
5.1. Aboriginal and Torres Strait Islander Histories and Cultures
5.2. Asia and Australia's Engagement with Asia
5.3. Sustainability
6. Subject Areas
6.1. Maths
6.2. English
6.3. Science
6.4. Humanities and Social Sciences
6.5. History
6.6. Geography
6.7. Health and Physical Education
6.8. The Arts
7. Student Diversity
7.1. Students with disability
7.2. Gifted and Tallented
7.3. EAL/D students
8. Achievement Standards
8.1. To monitor progress of learning across band levels.
8.2. To ensure appropriate content being taught across band levels
8.3. To ensure quality of learning across band levels.
9. Aims and Objectives
9.1. Students investigate, design, plan, manage, create and evaluate solutions.
9.2. Students are creative, innovative and enterprising when using traditional, contemporary and emerging technologies.
9.3. They make informed and ethical decisions about the role, impact and use of technologies relating to a sustainable future
9.4. Students use and manipulate technologies appropriately when designing and creating solutions.
10. Elaborations
10.1. To give teachers an understanding of what is to be taught in relation to each content descriptor.