Technologies (ACARA)
by Isabelle Pitchen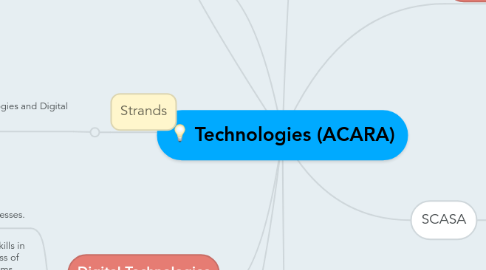 1. Design and Technologies
1.1. Food and Fibre productions
1.2. Engineering principles and systems
1.3. Food technologies
1.4. Materials and technologies specialisations
2. Digital Technologies
2.1. Builds on concepts, skills and processes.
2.2. It focuses on developing foundational skills in computational thinking and an awareness of personal experiences using digital systems.
2.3. Blog posts
2.3.1. https://dtm4260.edublogs.org/?p=5000&preview=true
2.3.2. https://dtm4260.edublogs.org/?p=4989&preview=true
3. Aims
3.1. Investigate, design, plan, manage, create and evaluate solutions
3.2. Are creative and innovative when using technologies
3.3. Make informed decisions about technologies for  a sustainable future
3.4. Confidently engage and manipulate technologies
3.5. Analyse and evaluate problems and create solutions
4. Key ideas
4.1. Creating preferred futures
4.1.1. Project management
4.1.2. Systems thinking
4.1.3. Design thinking
4.1.4. Computational thinking
4.1.5. ICT in the Australian Curriculum
4.1.6. Safety
4.1.7. Animal ethics
5. Bands of year levels
5.1. Foundation- Yr 2
5.2. Yr 3 and 4
5.3. Yr 5 and 6
5.4. Yr 7 and 8
5.5. Yr 9 and 10
6. Strands
6.1. Design and technologies and Digital technologies
6.1.1. Knowledge and understanding
6.1.2. Processes and production skills
7. Rationale
7.1. Knowledge, understanding and skills involved in the design, development and use of technologies are influenced by and can play a role in enriching and transforming societies and our natural, managed and constructed environments. Design and Technologies motivates young people and engages them in a range of learning experiences that are transferable to family and home, constructive leisure activities, community contribution and the world of work.
7.2. The Australian Curriculum: Design and Technologies enables students to become creative and responsive designers. Design and Technologies actively engages students in creating quality designed solutions for identified needs and opportunities across a range of technologies contexts. Students manage projects independently and collaboratively from conception to realisation. They apply design and systems thinking and design processes to investigate ideas, generate and refine ideas, plan, produce and evaluate designed solutions. They develop a sense of pride, satisfaction and enjoyment from their ability to develop innovative designed products, services and environments.
8. SCASA
8.1. General capabilities
8.1.1. Literacy
8.1.2. Numeracy
8.1.3. ICT
8.1.4. Critical and creative thinking
8.1.5. Personal and social capability
8.1.6. Ethical understanding
8.1.7. Intercultural understanding
8.2. Cross-Curriculum Priorities
8.2.1. Aboriginal and Torres Strait Islander histories and cultures
8.2.2. Asia and Australia's engagement with Asia
8.2.3. Sustainability
9. Curriculum links
9.1. SCASA http://k10outline.scsa.wa.edu.au/home/p-10-curriculum/curriculum-browser/technologies/technologies-overview/cross-curriculum-priorities
9.2. ACARAhttp://www.acara.edu.au/curriculum/learning_areas/technologies.html