Mobile Apps for the Classroom
by Clayton Bagby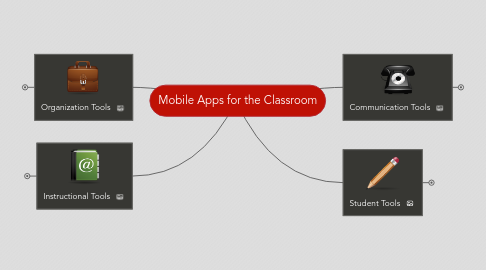 1. Communication Tools
1.1. Edmodo
1.1.1. Communicate with students and parents through the use of a code. Allows both to keep up to date with grades or important information in class. Also can be used by teachers to collaborate with other teachers. https://itunes.apple.com/us/app/edmodo/id378352300?mt=8
1.2. Twitter
1.2.1. Send out information to parents, students, and community members in 140 characters or less to keep up to date with the latest happenings in the classroom or school.
1.3. Remind
1.3.1. Allows to you send out information, updates, testing dates, or other information to anyone that has been given the group code. Does not allow receivers to reply back to that text message.
1.4. Volunteer Spot
1.4.1. Create an event or activity and allow parents or community members to sign up to assist when you need help with a field trip, guest speaker, or volunteering with the local backpack program.
2. Student Tools
2.1. Code School
2.1.1. Enhance student learning with an opportunity to learn beginning coding with this app. https://itunes.apple.com/us/app/code-school/id927194858?mt=8
2.2. Write About This
2.2.1. Creative writing app that allows students to choose prompts, or respond to teachers prompts for creative free writing. Also allows students and teachers to track progress over the course of a year or years. https://itunes.apple.com/us/app/write-about-this-free/id601382666?mt=8
2.3. 10 Fast Fingers
2.3.1. Typing app to increase your typing skills on your mobile device. 10fastfingers.com/mobile
2.4. Insta Grok
2.4.1. An educational research engine that returns results in a concept map of important ideas to allow users to choose the information that is important to them. https://itunes.apple.com/us/app/instagrok/id777873941?mt=8
2.5. Typing Web
2.5.1. Increase your touch screen typing speed with this app, also use the desktop version to increase keyboarding skills. iphone.typingweb.com/
3. Organization Tools
3.1. Google Drive
3.1.1. A cloud storage for easy access to all your documents from any device you will be working on at home or school. Also allows collaboration between teachers. https://itunes.apple.com/us/app/google-drive-free-online-storage/id507874739?mt=8
3.2. Teachers Assistant Lite
3.2.1. Document student action, achievements, and discipline in one convenient place.https://itunes.apple.com/us/app/teachers-assistant-classroom/id399265769?mt=8
3.3. Symbaloo
3.3.1. Organize your favorite website you like to use into category and have easy access to all of them on one screen. https://itunes.apple.com/us/app/symbaloo-bookmark-share-your/id521081559?mt=8
4. Instructional Tools
4.1. YouTube
4.1.1. Any video you could ever want that can be used to introduce, describe, or enhance a lesson. Also a great tool for students to use for help on many different problems the teacher is unable to help. https://itunes.apple.com/us/app/youtube/id544007664?mt=8
4.2. Quizalize
4.2.1. Make your own, or use other teachers already made quiz games to check for understanding or use a formative assessment tool. https://www.quizalize.com/app#/