Sociología y teoría sociológica
by benny Moncada Ordoñez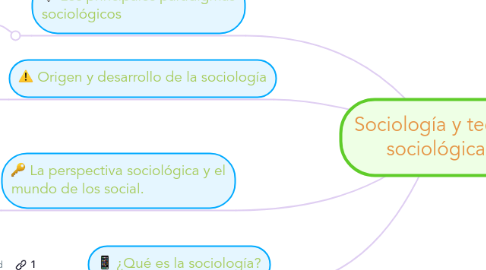 1. ¿Qué es la sociología?
1.1. Es la ciencia que estudia la sociedad
2. Origen y desarrollo de la sociología
2.1. Origen la sociología. Esta ligado a la actividad intelectual de Claude de Saint Siom y Augusto Comte
2.1.1. Augusto Comte y Henry de Saint Simon
2.1.1.1. Desarrollo de la Sociología
3. Los principales paradigmas sociológicos
3.1. El funcionalismo
3.1.1. Sociología del cinflicto
3.1.1.1. El interaccionsimo simbólico
4. La perspectiva sociológica y el mundo de los social.
4.1. To view the most important shortcuts, click on the question mark in the bottom right corner of your map editor, then click "Key Shortcuts"