Deng Thuc Smartphone
by Deng Thuc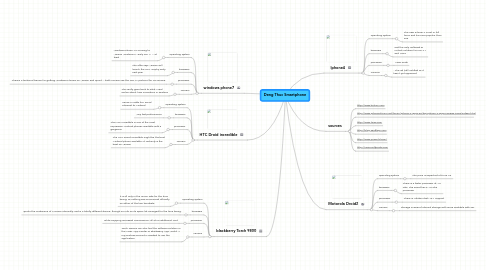 1. Iphone4
1.1. operating system
1.1.1. The new iPhone 4 is out in full force and it's more popular than eve
1.2. browsers
1.2.1. Get the only Jailbreak & Unlock Solution for iOS 4.1 and More
1.3. processor
1.3.1. New node
1.4. Carriers
1.4.1. . This ad (still untitled as it hasn't yet appeared
2. windows phone7
2.1. operating system
2.1.1. Windows Phone 7 is coming to Verizon Wireless in "early 2011" -- at least
2.2. browsers
2.2.1. The offer says Verizon will launch the HTC Trophy early next year
2.3. processor
2.3.1. There's a technical barrier for getting Windows Phones on Verizon and Sprint -- both carriers use the CDMA protocol for 3G service.
2.4. carriers
2.4.1. This really goes back to what I said earlier about how innovation in wireless
3. Motorola Droid2
3.1. operating system
3.1.1. The price is expected at $199 US
3.2. browsers
3.2.1. There is a faster processor at 1.2 Ghz. The Droid has a 1.0 Ghz processor
3.3. processor
3.3.1. There is Adobe Flash 10.1 support
3.4. carriers
3.4.1. Storage is 8GB of internal storage with more available with SD.
4. blackberry Torch 9800
4.1. operating system
4.1.1. It is all only in the rumor side for the time being, as nothing was announced officially on either of the two handsets,
4.2. browsers
4.2.1. sports the codename of Monaco internally, and is a totally different device, though no info on its specs list emerged for the time being.
4.3. processor
4.3.1. while enjoying increased convenience, all at no additional cost.
4.4. carriers
4.4.1. Torch owners can also find the software solution in the AT&T App Center or BlackBerry App World. A myWireless account is needed to use the application.
5. HTC Droid incredible
5.1. operating system
5.1.1. Sense UI adds fun, social element to Android
5.2. browsers
5.2.1. Very fast performance
5.3. processor
5.3.1. The HTC Incredible is one of the most impressive Android phones available with a gorgeous
5.4. carriers
5.4.1. The HTC Droid Incredible might be the best Android phone available--it certainly is the best on Verizon
6. sources
6.1. http://www.helium.com
6.2. http://www.iphone4forum.net/forum/iphone-4-apps-20/top-iphone-4-apps-reviews-3298/index2.html
6.3. http://www.tuaw.com
6.4. http://blog.seattlepi.com
6.5. http://www.pcworld.com/
6.6. http://news.softpedia.com