North Adams: The Potential for more
by A. David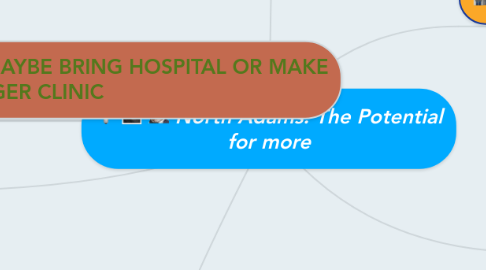 1. Past
1.1. North Adams was prosperous
1.1.1. Factory town with labor and other kinds
1.1.2. High population count
1.2. Spauge opens in 1930s
1.3. Spraug then Closes around 1985
1.3.1. Put thousands out of job
1.3.2. Towns people start to lose faith
1.4. Failure to Build mall
1.4.1. Demolition of buildings made into a parking lot
1.4.2. Which has now just left a lot of open space being unused.
2. Present
2.1. MCLA growing its connections to the community
2.2. Opening of new elementary school
2.3. MASS MoCA: kids space works with with schools
2.4. Mayor Alcombright leaving his door open to new ideas
2.4.1. Open to any kinds entrepreneurs looking to fill downtown.
2.4.2. Wanting to renevate the Mohawk Theater
2.5. Large Drug issue
2.5.1. Taking large effect on community
2.6. Need to find a way of creating other jobs that are just for the creative class people
2.7. Artist Lofts
2.7.1. Causing people to move to area
2.7.2. Building more of need to make more housing
2.7.3. Maybe even using the apartments about main street
2.7.4. Potentially make them into income based homes to attract more people.
2.8. Common Folk building a name for itself in North Adams.
2.8.1. Attrac musicians, artist and even those who just want to help other artist showcase their work
2.8.2. Helping to put N. Adams on the radar to attract people here for their events
2.9. Graduation Rate going up
2.10. Could help get rid of hopless feeling
2.11. Could reduce drug use if they are focusing more on school
2.12. New Korean Resturant
2.13. New food idea
2.14. Could cause other people to job on the food wagon and create new resturants
3. Future
3.1. Train Museum
3.1.1. This is in the works of getting full funding
3.1.2. Renovations have even been started
3.2. MCLA graduates staying in area
3.2.1. With the creation of more jobs
3.2.2. More things to do
3.3. Tunnel between MASS MoCA and downtown
3.4. Parlor Closing at MCLA
3.4.1. If he doesn't find someone to keep the way he has it could leave room for a new idea to arise
3.5. Creation of Light life
3.5.1. Maybe a late night dinner
3.5.2. Maybe a bar
4. NEED TO MAKE MORE JOBS
5. MAKE NORTH ADAMS MORE APPEALING TO YOUNG PEOPLE
6. MAYBE BRING HOSPITAL OR MAKE BIGGER CLINIC