How can technology benefit ELL's in the four domains? Listening, Speaking, Reading and Writing.
by Tanya Hiers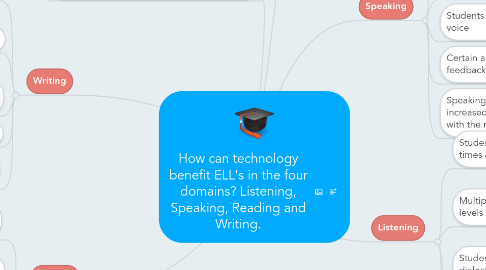 1. Reading
1.1. Students can access translated materials or materials in L1
1.2. Reading materials can be provided at various levels without drawing attention to students with lower proficiency
1.2.1. What resources can help support my students in Reading?
1.2.1.1. Mr. Nussbaum http://mrnussbaum.com/readingpassageindex/
1.2.1.2. Read Works www.readworks.org
1.3. Greater variation can be offered in what students are interested in
2. Speaking
2.1. Verbal interaction and the use of a variety of language functions can be faciliatated by the use of computer (Ybarra & Green, 2003)
2.1.1. What are good resources?
2.1.1.1. Podcasts http://www.educationworld.com/a_tech/sites/sites074.shtml
2.1.1.2. Skype www.skype.com
2.2. Speaking activities can be differentiated for the learner and conducted in a private environment at the learner's pace.
2.3. Students can easily record and rerecord their voice
2.4. Certain applications can provide immediate feedback
2.5. Speaking privately is less intimidating, the increased comfort may lead to more risk taking with the new language
3. Writing
3.1. Technology can increase motivation
3.2. Provide authentic opportunities to write
3.2.1. What are some resources that can assist with Writing?
3.2.1.1. Purdue Online Writing Lab https://owl.english.purdue.edu/owl/resource/678/01/
3.2.1.2. ESL Point www.eslpoint.com
3.3. practice can be differentiated based on proficiency level
3.4. online feedback can be less intimidating
3.5. Students can easily access multiple models of good writing
4. Listening
4.1. Students can listen to recordings as many times as necessary
4.2. Multiple website offer listening at various levels along with comprehension questions
4.2.1. What are some good resources for listening?
4.2.1.1. Randall's ESL Cyber Listening Lab http://www.esl-lab.com/
4.2.1.2. ELLO http://www.elllo.org/
4.3. Students can be exposed to a variety of dialects and culturally relevant topics
4.4. Quizzes can help students gauge success and will also benefit reading comprehension
5. Questions for the class?
5.1. I wanted to use research specifically with Google classroom and it's add ons. Does anyone use google classroom regularly or have resources related to it?
5.2. Do you think interactive websites should be used as a grade or only for supplemental work? If you think it should be used for a grade, do you feel like students who have access to technology at home or more experience have an advantage?
6. References are available in Notes