Org Chart
by Josh Stewart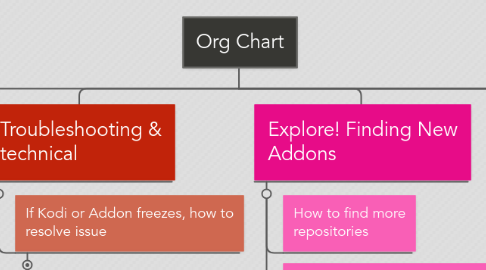 1. Welcome to your Amazon firestick tv! Start Here.
1.1. Requirements for the System to function properly:
1.1.1. A fast internet connection
1.2. First Steps Installation
1.2.1. Plug in Firestick remote into hdmi port on television
1.2.2. Learn your remote
2. Explore! Finding New Addons
2.1. How to find more repositories
2.2. How to find Addons & install from the repositories
3. Finance
3.1. Funding
3.1.1. Employee
3.1.2. Employee
3.2. Tax filings
3.2.1. Employee
3.2.2. Employee
3.3. Payroll
3.3.1. Employee
3.3.2. Employee
4. Troubleshooting & technical
4.1. If Kodi or Addon freezes, how to resolve issue
4.1.1. Push the Home icon
4.1.2. scroll down to settings
4.1.3. Scroll right to the applications icon
4.1.3.1. Scroll down & select manage addons
4.1.3.2. Find Kodi addon & select
4.1.3.3. Choose to Force Stop
4.1.3.4. Now Launch application to resume
4.2. If a movie or show isn't playing, or playing slow, how to resolve issue
4.2.1. Find another stream/channel in this addon, if available
4.2.2. If you notice that channels or streams are running slow often in a particular addon or app, try finding another addon that can find the same content desired.
4.3. Adding favorites for easy reference
4.3.1. Use the top right menu button & then add to favorites
4.4. Clearing cache from Kodi or Addon
4.5. Restoring Kodi, using fresh start
5. Legal
5.1. Partnerships
5.1.1. Employee
5.1.2. Employee
5.2. Risks
5.2.1. Employee
5.2.2. Employee
5.3. Agreements
5.3.1. Employee
5.3.2. Employee
6. Product
6.1. Design
6.1.1. Employee
6.1.2. Employee
6.2. R & D
6.2.1. Employee
6.2.2. Employee
6.3. Upgrades
6.3.1. Employee
6.3.2. Employee