Student retention and effective strategies for promting personal success in college
by Anonymous 15756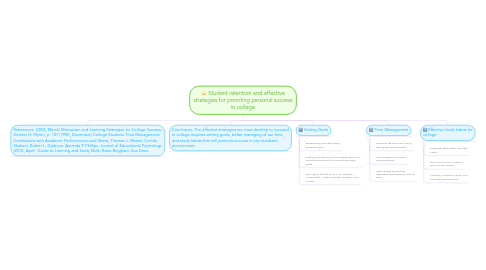 1. Setting Goals
1.1. Establishing and Identifying personal goals.
1.2. Setting and attaining Intermediate goals can motivate students to achieve long-range goals.
1.3. Each goals should be SMART: Specific, Measurable, Action-oriented, Realistic, and Timely.
2. Time Management
2.1. Students set short term/long term goals and priorities
2.2. Use strategies to reduce procrastination.
2.3. Self manage by staying organized and keeping track of time.
3. Effective study habits for college
3.1. Organize, take notes, use flash cards
3.2. Share and communicate in group study session
3.3. Creating academic plans, and scheduling study times.
4. Conclusion: The effective strategies we must develop to succeed in college requires setting goals, better managing of our time, and study habits that will promote success in any academic environment
5. References: (2004, March) Motivation and Learning Strategies for College Success; Dembo H. Myron, p. 107 (1990, December) College Students Time Management: Correlations with Academic Performances and Stress; Theresa J. Macan; Comila Shahani; Robert L. Dipboye; Amanda P. Phillips. Journal of Educational Psychology (2012, April) Guide to Learning and Study Skills; Rosie Bingham; Sue Drew.