Something Borrowed Something Blue
by Paige Haagen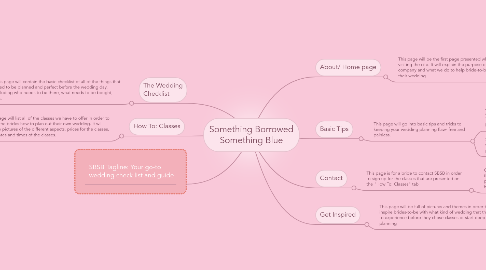 1. About/ Home page
1.1. This page will be the first page presented when visiting the cite. It will explain the purpose of the company and what we do to help bride-to-bes plan their wedding
1.1.1. Logo: I will include the SBSB logo on this page (and other pages)
1.1.2. Video Editing: I will create a cute video that will explain the concept of SBSB and share with people why they should attend the classes (a commercial)
2. Basic Tips
2.1. This page will go into basic tips and tricks to keeping your wedding planning flaw- free and painless.
2.1.1. APP prototype: I will create an app prototype for brides to chat about things they have learned while planning their weddings. They will share the tips and tricks they have used from the cite or have even figured out themselves
2.1.2. Screencast: I will create a screencast that will show visitors how to use the app prototype
3. Contact
3.1. This page is for a bride to contact SBSB in order to sign up for the classes that are presented on the "How To: Classes" tab
3.1.1. Google Form: I will use a Google form in order for the Brides to contact SBSB for the classes. They will put in their information and sign up for the classes here.
4. The Wedding Checklist
4.1. This page will contain the basic checklist of all of the things that need to be planned and perfect before the wedding day, including who needs to be there, what needs to be bought, etc.
4.1.1. Infographics: The wedding checklist will be built on infographics that will include many pictures
5. Get Inspired
5.1. This page will be full of pictures and themes in order to inspire brides-to-be with what kind of wedding that they want to experience before they chose classes or start deep planning
5.1.1. Social Media: I will create a Twitter account that will tweet out inspiring photos of weddings and quick ideas for planning complicated things
6. How To: Classes
6.1. This page will list all of the classes we have to offer in order to teach the brides how to plan out their own wedding. It will feature pictures of the different aspects, prices for the classes, and dates and times of the classes.
6.1.1. Graphic Design/QR code: I will include a flyer of the classes with a QR code that will give the customer a discount on the class or classes that they are attending
7. SBSB Tagline: Your go-to wedding check list and guide