PREP C: EMERALD CITY
by yonca akyurek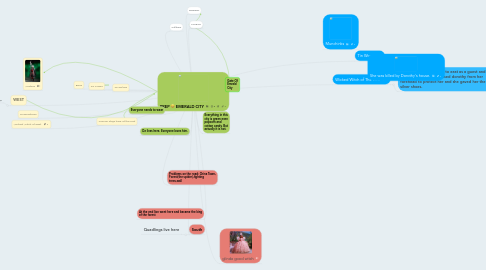 1. Tin Woodman
2. glinda good witch
3. Gate Of Emrald City
4. At the end lion went here and became the king of the forest
5. Wicked Witch of west
6. South
6.1. Quadlings live here
7. Bees
8. Everything in this city is green even popcorn and cotton candy. But actually it is not.
9. Wicked Witch of The East
9.1. Witch of the north went to east as a guest and saw dorothy and she kissed dorothy from her forehead to protect her and she gaved her the silver shoes.
10. Munchinks
11. Oz lives here. Everyone loves him.
12. She was killed by Dorothy's house.
13. Problems on the road: China Town, Forest(the spider),fighting trees,wall
14. WEST
14.1. Golden Cap
15. Winkies
16. 40 Crows
17. 40 wolves
18. Tinman stays here at the end
19. Everyone needs to wear
20. Tinwoodman
21. NORTH
22. Gillikins
23. DESERT