Taking Action on Human Right Issues
by Brian James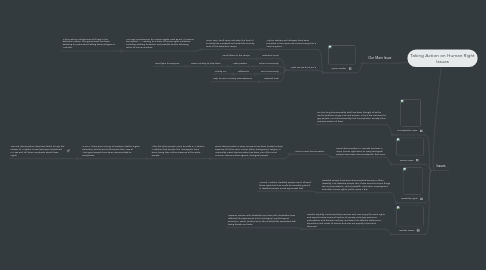 1. Issues
1.1. Homophobic issue
1.1.1. For too long homosexuality itself has been thought of as the central problem of gay men and women. In fact, the real issue for gay people is not homosexuality, but homophobia, society's fear and persecution of them.
1.2. Racism issue
1.2.1. Racial discrimination in Australia has been a major human right issue, as many aboriginal people have been discriminated for their kind.
1.2.1.1. What is racial discrimination
1.2.1.1.1. Racial discrimination is when someone has been treated unfairly because of his/her race, colour, ethnic background, religion or nationality. Racial discrimination has been one of the most common discrimination against Aboriginal people.
1.3. Disability rights
1.3.1. Disabled people have been discriminated because of their disability. The disabled people don't have access to some things like accommodation, commonwealth, education, employment and other human rights, just to name a few
1.3.1.1. Around Australia, disabled people aren't allowed these rights but if we could do something about it, disabled people would appreciate that.
1.4. Gender issues
1.4.1. Gender equality is achieved when women and men enjoy the same rights and opportunities across all sectors of society, including economic participation and decision-making, and when the different behaviours, aspirations and needs of women and men are equally valued and favoured.
1.4.1.1. However women with disabilities and men with disabilities have different life experiences due to biological, psychological, economic, social, political and cultural attributes associated with being female and male.
2. Our Main Issue
2.1. Asylum seeker
2.1.1. Asylum seekers and refugees have been punished in the Papa New Guinea Camps for a very long time.
2.1.1.1. Since Tony Abott came into play, the level of brutality has increased and raised the security level of the detention camps.
2.1.1.1.1. UN High Commisioner for Human Rights, Zeid Ra'ad Al-Hussein, has quoted "... Leading to a chain of human rights violations, including arbitrary detention and possible torture following return to home countries.
2.1.2. What can we do at an/ a
2.1.2.1. Individual Level
2.1.2.1.1. Send letters to the camps.
2.1.2.2. School community
2.1.2.2.1. Make posters
2.1.2.3. Local community
2.1.2.3.1. Billboards
2.1.2.4. National level
2.1.2.4.1. Help to raise a charity advertisement.