BOB MARLEY
by Diego colme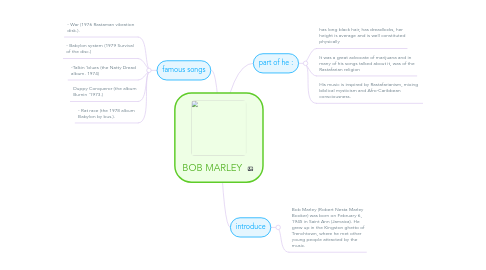 1. part of he :
1.1. has long black hair, has dreadlocks, her height is average and is well constituted physically
1.2. It was a great advocate of marijuana and in many of his songs talked about it, was of the Rastafarian religion
1.3. His music is inspired by Rastafarianism, mixing biblical mysticism and Afro-Caribbean consciousness.
2. introduce
2.1. Bob Marley (Robert Nesta Marley Booker) was born on February 6, 1945 in Saint Ann (Jamaica). He grew up in the Kingston ghetto of Trenchtown, where he met other young people attracted by the music.
3. famous songs
3.1. - War (1976 Rastaman vibration disk.).
3.2. - Babylon system (1979 Survival of the disc.)
3.3. -Talkin 'blues (the Natty Dread album. 1974)
3.4. Duppy Conqueror (the album Burnin '1973.)
3.5. - Rat race (the 1978 album Babylon by bus.).