BOB MARLEY
by Fernanda Herrera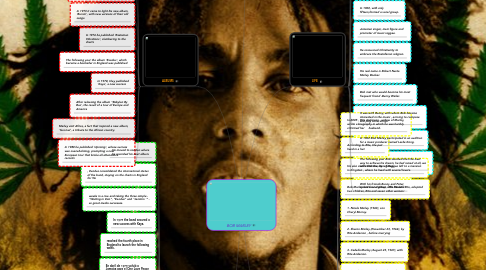 1. PROFESSIONAL SUCCESS
1.1. He moved to London where he recorded his next album.
1.2. , Exodus consolidated the international status of the band, staying on the charts in England for 56.
1.3. weeks in a row and taking the three simple - "Waiting in Vain", "Exodus" and "Jammin '" - as great media successes.
1.4. In 1978 the band secured a new success with Kaya.
1.5. reached the fourth place in England to launch the following week.
1.6. En abril de 1978 volvió a Jamaica para el One Love Peace Concert.
1.7. he got the Prime Minister and opposition leader hand diesen on stage in an effort to curb political violence and promote reconciliation national.
1.8. He was then invited to go to the headquarters of the United Nations in New York , to receive Medal of Peace.
1.9. . In April 1980 , the group was officially invited by the government of Zimbabwe to play at the ceremony of independence of the new nation.
1.10. The Wailers meanwhile embarked in their greater European tour, breaking attendance records at a concert.
1.11. ncluded a concert for 100,000 people in Milan , the largest in the history of the band.
1.12. Bob Marley & The Wailers were the biggest band on tour that year .
1.13. Uprising was in all the lists of Europe
1.14. They were making plans for a tour in the United States in company of Stevie Wonder at the end of the year.
2. ALBUMS
2.1. In 1971 Bob Marley & The Wailers released their first album, "Soul Rebels"
2.2. In 1972, the group released their second album, 'Catch a Fire', which had great exit
2.3. In 1973 it came to light his new album, 'Burnin', with new versions of their old songs.
2.4. In 1976 he published 'Rastaman Vibrations', clambering to the charts
2.5. The following year the album 'Exodus', which became a bestseller in England was published
2.6. In 1978, they published 'Kaya', a new success
2.7. After releasing the album "Babylon By Bus', the result of a tour of Europe and America
2.8. Marley visit Africa, a fact that inspired a new album, 'Survival', a tribute to the African country.
2.9. In 1980 he published 'Uprising', whose success was overwhelming, prompting a new European tour that broke all attendance records
3. PERSONAL LIFE
3.1. In 2005 , Rita Anderson , widow of Marley, wrote a biography in which he was harshly criticized her husband.
3.2. According to Rita, the pair lived in a hut.
3.3. He also claims that the star of Reggae left to a mansion in Kingston , where he lived with several lovers.
3.4. Bob Marley had four children with his wife Rita, adopted two children, Rita and seven other women:
3.5. 1. Nicola Marley (1963), con Cheryl Murray.
3.6. 2. Sharon Marley (November 23, 1964), by Rita Anderson , before marrying
3.7. 3. Cedella Marley (August 23, 1967), with Rita Anderson.
3.8. 4. David "Ziggy" Marley (17 de octubre de 1968), with Rita Anderson.
3.9. 5. Stephen Marley (April 20, 1972), with Rita Anderson.
3.10. 6. Robert "Robbie" Marley (May 16, 1972) Lucille Pat Williams.
3.11. 7. Rohan Marley (May 19, 1972) with Janet Hun.
3.12. 8. Karen Marley (1973) con Janet Bowen.
3.13. 9. Stephanie Marley (17 de agosto de 1974).
3.14. 10. Julian Marley (June 4, 1975), with Lucy Pounder.
3.15. 11. Ky-Mani Marley (February 26, 1976), with Anita Belnavis.
3.16. 12. Damian Marley (July 21, 1978), with Cindy Breakspeare.
3.17. 13. Makeda Marley (May 30, 1981), with Yvette Crichton.
3.18. 14. Nahum Marley (1981), con Lucy Pounder.
4. DEATH
4.1. In July 1977 it was discovered that he had made ​​it a acral lentiginous melanoma , a malignant form of melanoma.
4.2. the lesion on his thumb is a typical sign of this cancer
4.3. wanted to go ahead with scheduled performances and not the cancer was removed and put on treatment.
4.4. the cancer will spread throughout the body
4.5. In April 1981 he was awarded the Order of Merit of Jamaica
4.6. the third greater honor of the nation, in recognition of his invaluable contribution to the culture of the country
4.7. After eight months fighting unsuccessfully against cancer returns to Jamaica
4.8. During the flight from Germany, its vital functions began to fail.
4.9. He died at Cedars of Lebanon Hospital in the morning of May 11, 1981, at the age of 36 years.
5. LIFE
5.1. Was born on February 6 of 1945.
5.2. In Nin Mile a small town north of the island of Jamaica.
5.3. He was son of Cedella Booker and Norval Marley.
5.4. had to endure ridicule and contempt by Jamaican blacks for being a mulatto.
5.5. In 1960, with only fifteen,formed a vocal group.
5.6. Jamaican singer, main figure and promoter of music reggae.
5.7. He renounced Christianity to embrace the Rastafarian religion.
5.8. His real name is Robert Nesta Marley Booker.
5.9. Bob met who would become his most frequent friend -Bunny Wailer.
5.10. It was with Bunny, with whom Bob became interested in the music , arriving to compose and play some songs.
5.11. In 1962 Bob Marley participated in an audition for a music producer named Leslie Kong.
5.12. The following year Bob decided that the best way to achieve his dream, he had raised at all, we will not know, by a group.
5.13. With his friends Bunny and Peter, create a new group, 'The Wailers'.