Technology in the Classroom
by susan flores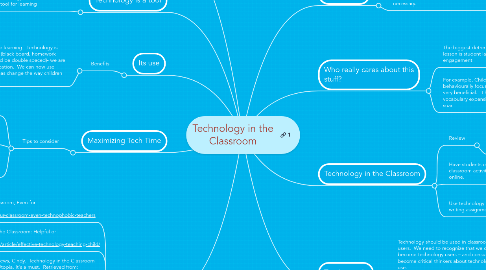 1. In a nutshell
1.1. Using up-to-date technology with students in both elementary and secondary school classrooms is highly recommended and necessary.
1.1.1. Availability and professional development support for integrating technology into classroom best practice are required.
1.1.2. While it is not without potential challenges, to ignore integration of technology into schools would be akin to still using the chalkboard as a major communication tool during lessons. Let's not permit fear of change to limit the potential of our students but rather let's embrace what modern technology can do to motivate students to do what they are there to do: learn
2. I dont have a computer!
2.1. Many students may not have technology in their homes or have access only when technology is available at school.
2.2. The reality is that not only do some students lack technology options in the home, they actually also lack access to these devices in their classrooms. How the allotted computers in a school are used varies.
3. Who really cares about this stuff?
3.1. The biggest detriment to a teacher's lesson is student lack of engagement
3.1.1. Students do not lack motivation or engagement because something is inherently wrong with them but rather it's the ineffective way the teacher is teaching.
3.2. For example, Child and Youth Worker, Chris McMillan, has noted in the behaviourally focused classrooms he has worked in that technology is very beneficial. It helps students "make gains in work time completion, vocabulary expansion, and writing / typing." Confidence also can soar.
4. Technology in the Classroom
4.1. Review
4.1.1. Review games such as "Jeopardy!," "The Weakest Link," and "Who Wants to Be a Millionaire?" are available online for teachers to download. A fun way to get your students to review important material!
4.2. Have students complete a written classroom activity as if it was online.
4.2.1. Ever have your students write a diary from the perspective of a character or famous person? Why not have them create a blog instead?
4.3. Use technology as a topic for a writing assignment
4.3.1. have them write a "how-to" piece about using technology in the classroom. It's a natural fit, as young people usually have a higher comfort level with technology than many adults. Tell kids to write a piece instructing someone – maybe a grandparent? – on how to send an email, set up an Ipod, or play a video game.
5. Technology is a tool
5.1. Technology in the classroom is a tool for learning
5.1.1. But, unfortunately, some schools do not prioritize acquiring sufficient technology (hardware and software) for their classrooms.
5.1.2. Further, some teachers are afraid or unwilling to learn more about how to use technology with their students regardless of the needs of the students.
6. Its use
6.1. Benefits
6.1.1. Technology in the classroom will result in more productive learning. Technology is already present in the classroom but only fundamentally- (black board, homework assignments- portal, word processing (assignments should be double spaced)- we are ignoring the importance that technology can play in education. We can now use technology for more than word processing. Technologyhas change the way children think, compose an d learn.
7. Maximizing Tech Time
7.1. Tips to consider
7.1.1. Look for Connections.
7.1.1.1. Use technology within the context of larger learning goals rather than in isolation.
7.1.2. Don't Assume
7.1.2.1. There are a lot of facts floating out there, and everyone has an opinion. help your students keep that in mind
7.1.3. It's All in the Application.
7.1.3.1. Ask how a gadget or program furthers higher thinking, basic skills, or your students' ability to evaluate, analyze, and synthesize ideas. This way, you'll ensure that it's being used for more than its novelty.
8. Teachers role
8.1. Technology should be used in classrooms and education to create empowered users. We need to recognize that we can no longer somply educate students to become technology users – and consumers – without helping them learn how to become critical thinkers about technology and the social issues surrounding its use.
8.2. Coach
8.2.1. some feel that technology can depersonalize learning
8.2.1.1. this is wrong! teacher become guides and coaches. Work closely with student as they need help. can recoonect with their main purpose of being learning masters and not necessarily content masters.
9. Resources:
9.1. Haynes, Kim. "12 Easy Ways to Use Technology in the Classroom, Even for Technophobic Teachers". Retrieved from: http://www.teachhub.com/12-easy-ways-use-technology-your-classroom-even-technophobic-teachers
9.2. Samantha, Cleaver. "Technology in the Classroom: Helpful or Harmful?" Retrieved from: http://www.education.com/magazine/article/effective-technology-teaching-child/
9.3. Matthews, Cindy. Technology in the Classroom isn't Utopia. It's a must. Retrieved from: http://www.snow.idrc.ocad.ca/node/227
9.4. Dean Shareski. "Cellphones in the Classroom: Tools for Learning". Feb 11, 2008 https://www.youtube.com/watch?v=zhAH6nncCKw