Pierre Auger Observatory
by Pierre Auger Observatory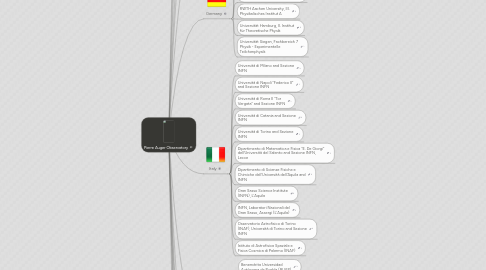 1. USA
1.1. Case Western Reserve University
1.2. Colorado School of Mines
1.3. Colorado State University
1.4. Department of Physics and Astronomy, Lehman College, City University of New York
1.5. Fermi National Accelerator Laboratory
1.6. Louisiana State University
1.7. Michigan Technological University
1.8. New York University
1.9. Northeastern University
1.10. Ohio State University
1.11. Pennsylvania State University
1.12. University of Chicago
1.13. University of Hawaii
1.14. University of Nebraska
1.15. University of New Mexico
2. Spain
2.1. Universidad Complutense de Madrid
2.2. Universidad de Granad and C.A.F.P.E.
2.3. Universidad de Santiago de Compostela
3. Slovenia
3.1. Experimental Particle Physics Department, J. Stefan Institute
3.2. Laboratory for Astroparticle Physics, University of Nova Gorica
4. Romania
4.1. "Horia Hulubei" National Institute for Physics and Nuclear Engineering
4.2. Institute of Space Science
4.3. University of Bucharest
4.4. University Politehnica of Bucharest
5. Poland
5.1. Institute of Nuclear Physics PAN
5.2. University of Łódź
6. Netherlands
6.1. Institute for Mathematics, Astrophysics and Particle Physics (IMAPP), Radboud Universiteit, Nijmegen
6.2. Kernfysisch Versneller Instituut (KVI), University of Groningen
6.3. Nationaal Instituut voor Kernfysica en Hoge Energie Fysica (NIKHEF)
6.4. Stichting Astronomisch Onderzoek in Nederland (ASTRON), Dwingeloo
7. Mexico
7.1. Benemérita Universidad Autónoma de Puebla (BUAP)
7.2. Centro de Investigación y de Estudios Avanzados del IPN (CINVESTAV)
7.3. Unidad Profesional Interdisciplinaria en Ingeniería y Tecnologías Avanzadas del Instituto Politécnico Nacional (UPIITA-IPN)
7.4. Universidad Autónoma de Chiapas
7.5. Universidad Michoacana de San Nicolás de Hidalgo
7.6. Universidad Nacional Autónoma de México
8. Germany
8.1. Bergische Universität Wuppertal, Fachbereich C - Physik
8.2. Karlsruhe Institute of Technology
8.2.1. Institut für Experimentelle Kernphysik (IEKP)
8.2.2. Institut für Kernphysik (IKP)
8.2.3. Institut für Prozessdatenverarbeitung und Elektronik (IPE)
8.3. Max-Planck-Institut für Radioastronomie and Universität Bonn
8.4. RWTH Aachen University, III. Physikalisches Institut A
8.5. Universität Hamburg, II. Institut für Theoretische Physik
8.6. Universität Siegen, Fachbereich 7 Physik - Experimentelle Teilchenphysik
9. France
9.1. Institut de Physique Nucléaire d'Orsay (IPNO), Université Paris 11, CNRS-IN2P3
9.2. Laboratoire de Physique Nucléaire et de Hautes Energies (LPNHE), Universités Paris 6 et Paris 7, CNRS-IN2P3
9.3. Laboratoire de Physique Subatomique et de Cosmologie (LPSC), Université Joseph Fourier, INPG, CNRS-IN2P3
9.4. SUBATECH, École des Mines de Nantes, CNRS-IN2P3, Université de Nantes
10. Czech Republic
10.1. Charles University Prague, Institute of Particle and Nuclear Physics
10.2. Institute of Physics (FZU) of the Academy of Sciences of the Czech Republic
10.3. Palacky University, RCPTM
11. Argentina
11.1. Centro Atómico Bariloche and Instituto Balseiro (CNEA-UNCuyo-CONICET)
11.2. Centro de Investigaciones en Láseres y Aplicaciones, CITEDEF and CONICET
11.3. Departamento de Física, FCEyN, Universidad de Buenos Aires
11.4. Facultad de Ciencias Bioquímicas y Farmacéuticas U.N.R.
11.5. IFLP, Universidad Nacional de La Plata and CONICET
11.6. Instituto de Astronomía y Física del Espacio, CONICET-UBA
11.7. Instituto de Física de Rosario (IFIR) - CONICET/U.N.R. and Facultad de Ciencias Bioquímicas y Farmacéuticas U.N.R.
11.8. Instituto de Tecnologías en Detección y Astropartículas (CNEA, CONICET, UNSAM)
11.9. Instituto de Tecnologías en Detección y Astropartículas (CNEA, CONICET, UNSAM), and Universidad Tecnológica Nacional - Facultad Regional Mendoza
11.10. Universidad Tecnológica Nacional - Facultad Regional Buenos Aires
12. Brazil
12.1. Centro Brasileiro de Pesquisas Fisicas (CBPF)
12.2. Universidade Estadual de Campinas (UNICAMP)
12.3. Universidade Estadual de Feira de Santana (UEFS)
12.4. Universidade Federal Fluminense
12.5. Universidade Federal da Bahia
12.6. Universidade Federal do ABC (UFABC)
12.7. Universidade Federal do Rio de Janeiro (UFRJ), Instituto de Física
12.8. Universidade de São Paulo, Intituto de Física de São Carlos
12.9. Universidade de São Paulo, Intituto de Física, São Paulo
13. Australia
13.1. University of Adelaide
14. Colombia
14.1. Universidad Industrial de Santander
15. Italy
15.1. Università di Milano and Sezione INFN
15.2. Università di Napoli "Federico II" and Sezione INFN
15.3. Università di Roma II "Tor Vergata" and Sezione INFN
15.4. Università di Catania and Sezione INFN
15.5. Università di Torino and Sezione INFN
15.6. Dipartimento di Matematica e Fisica "E. De Giorgi" dell'Università del Salento and Sezione INFN, Lecce
15.7. Dipartimento di Scienze Fisiche e Chimiche dell'Università dell'Aquila and INFN
15.8. Gran Sasso Science Institute (INFN), L'Aquila
15.9. INFN, Laboratori Nazionali del Gran Sasso, Assergi (L'Aquila)
15.10. Osservatorio Astrofisico di Torino (INAF), Università di Torino and Sezione INFN
15.11. Istituto di Astrofisica Spaziale e Fisica Cosmica di Palermo (INAF)
16. Portugal
16.1. Laboratório de Instrumentação e Física Experimental de Partículas - LIP and Instituto Superior Técnico - IST, Universidade de Lisboa - UL