Mobile Apps
by Kesha Fredendall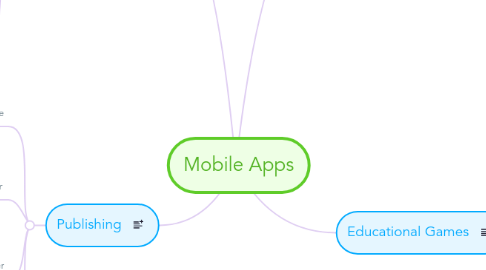 1. Communication
1.1. Google Classroom
1.1.1. This classroom is designed to help teachers create, collect, and grade assignments paperlessly. This app creates folders for each assignment and can also make a copy of each document for each student. Students can keep track of what due and when. Teachers can see who has worked on what and send messages to the students regarding the work.
1.2. Remind
1.2.1. This is an app or administrators/educators to text students and parents. It's a safe way to send reminders, assignments, homework, assessments or any type of message. It can be done in a group message and even has an option for chat if you chose to do that.
1.3. Voki
1.3.1. This is a free messaging app that allows you to send video, voice and photo messages to individuals and groups. Students could use this to communicate in the classroom or educators could use it to send group messages to students and parents.
1.4. Moxtra
1.4.1. This would be great for grade level collaboration and vertical team meetings. This app has messaging, screen sharing, white boarding and real-time meetings. This would be awesome to use for meetings and then send the information out to the rest of the school.
2. Educational Games
2.1. Little Speller
2.1.1. Helps students learn to read, write and spell words. Educators can take their own pictures and add words so students can learn words that are being taught. This can be used for weekly spelling list. You can add your own voice, students can also record themselves.
2.2. iTooch Elementary
2.2.1. This app has activities for 1-5 in math, science and language arts. It is aligned with Common Core Standards. It also has lesson summary's and activities for teachers to use for lessons.
2.3. Endless Reader
2.3.1. This is an app for lower elementary learning sight words. It has activities for all sight words, which are separated by grade level sight words. It also has sentence puzzles to help understand definitions. Educators can use this as a station for sight word practice.
2.4. Numbers, Addition and Subtraction
2.4.1. This is an app for lower elementary. It focuses on the math concepts that lower grades need to know. There are fun animals that the students have to take through the math problems to reach the end. This would be a fun math station.
3. Education-Literacy
3.1. Storia
3.1.1. This is a reading app. It has to be purchased but can be used for grades k-6. Stories can be read to students. Teachers can develop and organize reading list based on the individual needs of their students.
3.2. RAZ_KIDS
3.2.1. This is also a reading app. This program offers over 400 e-books(27 reading levels) with comprehension quizzes at the end of each story. Students can read, listen to and even record themselves reading. Running records are available and student progress is recorded and can be viewed by teachers and parents.
3.3. Speakaboos Stories
3.3.1. This app has over 150 stories and songs with animation, interactivity, music and read-along text. This can help students with fluency, comprehension and vocabulary. It also has a wide range of interest categories. This could be used for younger readers to make reading fun and let them chose what they would like to read.
3.4. Bobs Books
3.4.1. This helps students make connections between letters and sounds, sound out simple words and spell words they've read in the stories. It also has book characters that go through the story while it's being read.
4. Publishing
4.1. Word Collage
4.1.1. This is a fun way for students to publish information. Instead of writing a report, they can use this app to create a fun collage with the information they wish to publish.
4.2. Tumbler
4.2.1. On this app you can pretty much post whatever you would like-photos, links, chats, videos. You can blog and reblog what someone else has blogged. You can follow people and also block people. Students and Educators could use this to communicate with others who have the same interests. Students could use it and follow and communicate with others in their class.
4.3. Blogger
4.3.1. Blogger can be used in classrooms for students and educators to communicate. Educators can publish information about class on it and students can post things as well. This would be good for teachers to post information about class and/or to talk start discussions or something for students to think about.
4.4. Twitter
4.4.1. Twitter is great for Administrators and Educators to stay connected with others who have the same interests. You can follow others who you find interesting and provide information that you find beneficial.