Common Web 2.0 Tools
by Ash Jones-Kaufman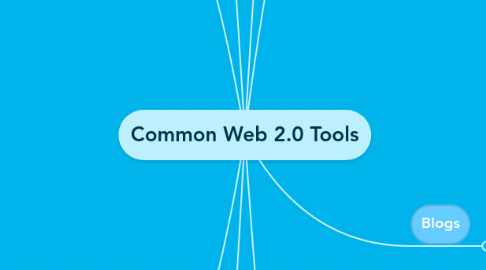 1. Video Sharing
1.1. Description: Video sharing platforms often for free. Videos can be used to share information, explore, research, and provide demonstrations. Videos can have a variety of privacy settings too.
1.2. Classroom Usage: ISTE Standards #1
1.2.1. #1 Creativity & Innovation: students can create videos, which help explore content in new ways. Videos can be used as presentations.
1.3. YouTube
1.3.1. Pros
1.3.1.1. Free to view and distribute videos. Globally recognized and offers YouTubeEDU, which offers various levels of education including primary/secondary, university, and life long learning categories. Videos can be easily and attractively embedded within websites. Video libraries and channels can be easily setup (Connor, n.d.). Videos can be easily uploaded from several different devices and some devices record in formats that easily upload to YouTube
1.3.2. Cons
1.3.2.1. Because of popularity, mislabeled bookmarking tags can populate within searches. Advertisements are often included in videos and sometimes must be watched in it's entity prior to watching desired video.
1.4. Vimeo
1.4.1. Pros
1.4.1.1. Boast no video advertisements. Vimeo favors HD quality videos (King, 2014). Many videos on Vimeo were produced for academic projects ("Vimeo," n.d.). Offers a free account but with limited upload space per week. Offers privacy settings and different formats of video.
1.4.2. Cons
1.4.2.1. With free account, limited weekly upload and the community of users is smaller; therefore, less search results are available ("Vimeo," n.d.).
1.5. Vine
1.5.1. Pros
1.5.1.1. Make short six second videos quickly. Videos can be used to create a quick demo or challenge students to be creative in a short length of time (Boris, 2013). An app can be added to mobile devices, which makes it easy to use.
1.5.2. Cons
1.5.2.1. Users could find unsavory unintended videos while searching for materials (Boris, 2013). It is suggest to use for student projects, not as a resource.
1.6. teachertube
1.6.1. Pros
1.6.1.1. Most institutions and school systems do not block this web tool. Videos often produced by other teachers/instructors. Students can also use tool to produce/publish videos for presentations (Rawson, 2011).
1.6.2. Cons
1.6.2.1. Limited videos in comparison to popular video sharing sites (Rawson, 2011).
2. Social Bookmarking
2.1. Description: A great method for users to search, manage/organize, and share bookmarks of web resources. The resource is not shares, rather than the bookmark is shared. Meta-data such as tags, votes, and comments are added to help manage resources (ranfan, 2009).
2.2. Classroom Usage: ISTE Standards #3
2.2.1. #3: Research & Information Fluency: Digital tools such as social bookmarking assist in gathering, organizing, evaluating, and sharing materials/resources.
2.3. Delicious
2.3.1. Pros
2.3.1.1. Easy add-on for popular web browsers such as Google Chrome. Through the add-on, you can tag, save, manage, and share websites in one spot (ranfan, 2009).
2.3.2. Cons
2.3.2.1. Tool does not offer as many additional features.
2.4. Diigo
2.4.1. Pros
2.4.1.1. This tool host more features including ability to add notes and create groups for private sharing (ranfan, 2009).
2.4.2. Cons
2.4.2.1. Not as widely used as other social bookmarking sites (ranfan, 2009)
2.5. De.lirio.us
2.5.1. Pros
2.5.1.1. De.lirio.us use to be a clone of Delicious, you could store, tag, and share links
2.5.2. Cons
2.5.2.1. The site does not seem to be in existence as of recently.
3. Cloud Storage
3.1. Description: Online storage where users can upload any size of file, in comparison to emails which can limit size of files. Users can share information and control information with invites/passwords. Free services limit storage capacity ("Definition of cloud storage," n.d.).
3.2. Classroom Usage: ISTE Standards #2 and #3
3.2.1. #2: Communication & Collaboration: students can use cloud storage to interact, collaborate, and publish with peers. Cloud storage allows students to contribute and allows students to work effectively with team members.
3.2.2. #3 Research & Information Fluency: students can utilize cloud storage to gather information, organize information/data.
3.3. Google Drive
3.3.1. Pros
3.3.1.1. Free service and utilizes Google email address. Users can access through multiple types of devices (smartphones, tablets, laptops, PC's).
3.3.2. Cons
3.3.2.1. Free service is limited in storage size; however, 1TB of storage is available for only $10 a month (Lux, 2014).
3.4. Dropbox
3.4.1. Pros
3.4.1.1. For first time users, Dropbox is simplistic and offers a tutorial/guide for new users ("Dropbox," 2015). Dropbox offers free service.
3.4.2. Cons
3.4.2.1. Free service is limited and price per GB is higher compared to similar services ("Dropbox," 2015).
3.5. Microsoft Cloud
3.5.1. Pros
3.5.1.1. Office 365 offers unlimited OneDrive storage for all users and allows multiple devices access to the storage drive (Newman, 2014).
3.5.2. Cons
3.5.2.1. Cost for service; however, some institutions/schools allow for student/faculty access while attending school
4. Podcasting
4.1. Description: Audio episodes of various programs including news reports, cultural insights, information, and radio programs.
4.2. Classroom Usage: ISTE Standards #4
4.2.1. #4 Critical Thinking, Problem Solving, & Decision Making: through exploration of various podcasts, students can explore issues, concerns, and current events of the world. Students can use this to inspire problem solving skills and ask significant questions.
4.3. PodBean
4.3.1. Pro
4.3.1.1. No technical assistance needed
4.3.2. Con
4.3.2.1. There is a fee for use
4.4. Itunes
4.4.1. Pros
4.4.1.1. A free app used on multiple devices to listen and spoken audio content can be slower or faster as needed. Podcast can also transcribed into PDF or ePUB format.
4.4.2. Cons
4.4.2.1. Like many podcasts, finding specific material is hard. You will find many podcast but it is hard to find out which one is relevant without listening to the content
4.5. HipCast
4.5.1. Pros
4.5.1.1. No technical assistance needed
4.5.2. Con
4.5.2.1. There is a fee for usage ($5)
4.6. Stitcher
4.6.1. Pros
4.6.1.1. Free apps for mobile devices allow for easy, free access to live radio stations and podcasts. Popular broadcasting stations including NPR, ABC, and USA Today offer short news clips about current events around the world. The use of hashtags allow for easy searching. Private podcast are featured within Sticher as well. Users may use app without signing into an account.
4.6.2. Cons
4.6.2.1. Private podcast can be inappropriate for certain audiences. Materials should be reviewed before sharing materials.
5. Social Networking
5.1. Description: Internet communities based upon personal, career, or special interest groups.
5.2. Classroom Usage: ISTE Standards #2 and #5
5.2.1. #2: Communication & Collaboration: students can use social networking tools to share, communicate, and collaborate with students within his/her class and/or with students from other schools/institutions. Student can also communicate with other students in different cultures to engage in global awareness.
5.2.2. #5: Digital Citizenship: Students can observe and share cultural and societal issues. Students will be able to demonstrate positive attitudes and personal responsibility with the use of technology and establish skills for life long learning.
5.3. Facebook
5.3.1. Pros
5.3.1.1. The most popular social site, which includes a variety of special interest groups, businesses, and national organizations. Mobile and tablet apps make it easy to stay connected. Websites often include a link to Facebook for easy sharing. Students can create student groups or interest groups for special projects. Many other websites use Facebook login as a login for their site (such as Pinterest).
5.3.2. Cons
5.3.2.1. Privacy control is a concern for most individuals. Setting up various privacy settings is a must and can be confusing for new users. Being a good digital citizen should be practiced at all times. Concerns of bullying and anti-social behavior can arise. This site can be addicting for many individuals.
5.4. Twitter
5.4.1. Pros
5.4.1.1. Free service that includes apps for mobile devices, tablets, and links on websites. Follow individuals, groups, companies, and celebrities/industry leaders. Tweets can be made public or private. Tweets limit number of characters which helps say precisely what the user wishes to say.
5.4.2. Cons
5.4.2.1. Character limit of 140 can be challenging for new users. There is a limit of 1,000 Tweets per day and 250 direct messages. You cannot upload videos directly to your twitter feed. Lastly, less privacy than other social sites ("What is Twitter?," n.d.).
5.5. LinkedIn
5.5.1. Pros
5.5.1.1. Best networking site for professionals and college students. The site boasts connections to connect to business leaders, find employers, get career advice, and connect professional with coworkers. The site allows users to build resumes and make professional connections (Key, 2012).
5.5.2. Cons
5.5.2.1. Some automated tools such as email search can help find other professionals that you may know; however, it is cautioned to not add individuals that you do not truly know or have interactions with (Key, 2012).
5.6. Pinterest
5.6.1. Pros
5.6.1.1. Easy setup and logon using Facebook information. Visually using pin boards to organize and categorize information for easy access for later use. App is available through mobile devices, tablets, and websites for easier use (Lorraine, n.d.).
5.6.2. Cons
5.6.2.1. As much as 97% of users are female; therefore, pins, boards, and interests are geared towards typical female interests (Lorraine, n.d.). Potential copyright issues have arose.
6. Blogs
6.1. Description: webpages that offer an individual and/or groups opinion about subjects, philosophy, and insightful information. Entries generally appear in reverse-chronological order and allow for readers to provide comments and feedback.
6.2. Classroom Usage: ISTE Standards #1
6.2.1. #1 Creativity & Innovation: students can create journals or share insightful information or observations.
6.3. Weebly
6.3.1. Pros
6.3.1.1. Very user friendly with robust features. Easy drop and drag use, which ads in building the site. Appealing templates to make sites look professional. Offers free service (Wong, 2015).
6.3.2. Cons
6.3.2.1. Recent update has removed page restrictions even for free accounts (Wong, 2015)
6.4. Wordpress
6.4.1. Pros
6.4.1.1. More flexibility for experienced users by allowing for opensource coding (Wong, 2015a)
6.4.2. Cons
6.4.2.1. Not for novice users due to higher learning curve. but learning tools are available (Wong, 2015a).
6.5. Blogger (backed by Google)
6.5.1. Pros
6.5.1.1. Free to use,
6.5.2. Cons
6.5.2.1. The blog is not owned by the creator it is owned by Google, limited tools for performance, moving your blog to another site came be extremely complicated
6.6. SquareSpace
6.6.1. Pros
6.6.1.1. Offers polished themes and overall professional looks that have been tested for quality contorl (Wong, 2015a).
6.6.2. Cons
6.6.2.1. Cost and limit of pages and contributors
7. Wikis
7.1. Description: Wikis are web based applications that allow for individuals to collaborate and modify the content and structure. Most Wikis can set privacy settings and/or restrict user visibility and editing.
7.2. Classroom Usage: ISTE Standards #1, #2, & #5
7.2.1. #1 Creativity & Innovation: Student assist in creating and maintaining information shared within a Wiki site. Students help create original pieces of work.
7.2.2. #2 Communication & Collaboration: Wikis are great sources to help student publish information and produce original works and solve problems
7.2.3. #5 Digital Citizenship: Wikis help build skills that advocate responsible behavior for publishing and sharing materials.
7.3. PB wikis
7.3.1. Pros
7.3.1.1. Free for the basic version and easy to navigate
7.3.2. Cons
7.3.2.1. If you want more online storage space you have to pay for it
7.4. Wikispaces
7.4.1. Pros
7.4.1.1. Easy to use, similar to using a word processor. Includes helpful tools to help guide novice users. Wikispaces provides additional support for K-12 educator users (Dianarose24, n.d.).
7.4.2. Cons
7.4.2.1. Settings can be limited and advanced wikis charge a fee. While collaboration is encouraged, multiple users cannot edit a page at the same time (Dianarose24, n.d.).
7.5. Wikidot
7.5.1. Cons
7.5.1.1. A little difficult to navigate, in order to get more storage you must pay
7.5.2. Pros
7.5.2.1. Customizable themes, good for both public and private wikis
8. Resources
8.1. Boris, C. (21 February 2013). The pros and cons of using video app 'vine' for marketing. Retrieved from http://www.entrepreneur.com/article/225872
8.2. Connor, S. (n.d.). 10 pros and cons of using YouTube to build internet visibility. Retrieved from http://www.thinkvaulter.com/_blog/thinkVAULT_Web_Business_Tips_for_Savvy_Business_Owners/post/10_Pros_and_Cons_of_Using_YouTube/
8.3. Definition of cloud storage. (n.d.). Retrieved from http://www.pcmag.com/encyclopedia/term/60889/cloud-storage
8.4. Dianarose24. (n.d.) Pros and cons of Wikispaces. Retrieved from v
8.5. Dropbox. (2015). Retrieved from http://online-storage-service-review.toptenreviews.com/dropbox-review.html
8.6. Key, J. (4 October 2012). LinkedIn has pros and cons. Retrieved from http://www.otc.edu/schedules/fallschedule.php?s=online_fall
8.7. King, K. (15 September 2014). Vimeo vs. YouTube: which is best for business?. Retrieved from http://www.otc.edu/schedules/fallschedule.php?s=online_fall
8.8. Lorraine, M. (n.d.). Pinterest pros and cons. Retrieved from http://www.life123.com/technology/internet/online-photo-sharing/pinterest-pros-cons.shtml
8.9. Lux, K. (27 June 2014). Google drive for work: comparisons, pros and cons. Retrieved from http://infospace.ischool.syr.edu/2014/06/27/google-drive-for-work-comparisons-pros-and-cons/
8.10. Newman, J. (27 October 2014). Microsoft beefs up office 365 with unlimted onedrive cloud storage. Retrieved from http://www.pcworld.com/article/2838450/microsoft-beefs-up-office-365-with-unlimited-onedrive-cloud-storage.html
8.11. ranfan. (20 December 2009). Social bookmarking Delicious vs diigo. Retrieved from http://www.howcanifindit.com/blog:social-bookmarking-delicious-vs-diigo
8.12. Rawson, B. (4 February 2011). Pros and cons for TeacherTube. Retrieved from https://mtk12sp11a.wordpress.com/2011/02/04/pros-and-cons-for-teachertube/
8.13. Vimeo. (n.d.). Retrieved from
8.14. What is twitter?. (n.d.). Retrieved from http://www.otc.edu/schedules/fallschedule.php?s=online_fall
8.15. Wong, J. (4 April 2015). Weebly review 2015. Retrieved frohttp://www.websitebuilderexpert.com/weebly-review/m
8.16. Wong, J (4 April 2015a). Squarespace vs WordPress. Retrieved from http://www.websitebuilderexpert.com/squarespace-vs-wordpress/
8.17. Definition of: cloud storage. (n.d.). Retrieved from http://www.pcmag.com/encyclopedia/term/60889/cloud-storage