Alison's Mobile Mind Map
by Margaret A Mollenhour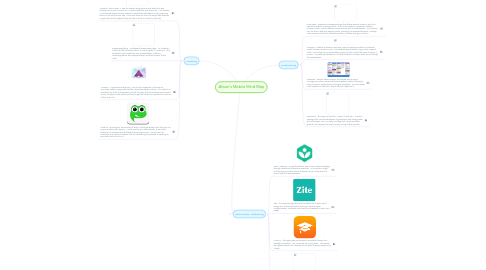 1. Information Gathering
1.1. Khan Academy - an app that allows you to learn almost anything through videos and interactive exercises. As a teacher I might use this app as a place where students can go if they aren't at school and still have questions.
1.2. Zite - an interactive app that you can search for a topic and it brings you all this information from your favorite news conglomerates. Students could use this to research a topic for a paper
1.3. iTunes U - this app gives you access to complete courses from leading universities. You can brush up on any topic. This would be a great resource for students to use while they are researching a topic.
1.4. TED Talks - this app gives you access to talks on all sorts of topics by all sorts of people. I could use this as an administrator to get fresh ideas from others in the education field, maybe learn from their mistakes.
2. Creating
2.1. Animoto Video Maker - Make fun videos using pictures and video that you already have in your camera roll. Unfortunately this one does cost. As a teacher, I could create videos for the student to watch the night before a lab, preparing them for the lab the next day. This could allow for us to do longer labs because i might not have to explain/setup the lab as much in class the next day.
2.2. ExplainEverything - Whiteboard/screancasting app. As a teacher I could use this for lecture when our school goes 1:1 next year. The students could create their own presentations, videos or recordings about their assigned topic and then present to the class.
2.3. Aurasma - Augmented reality app. You use the viewfinder in the app to scan/view certain images and see the interactive digital content. As a teacher, it would be fun to do a scavenger hunt with this app and the students would need to use the app to view certain pictures to get the content or question to move on to the next clue.
2.4. Croak.it! - record up to 30 seconds of audio, it then generates a link that you can copy and share with anyone. I could use this as a administrator to send out blurbs to my students and staff about upcoming events. I know I tend to remember more when someone tells me something as opposed to sending an email with tons of info in it.
3. Productivity
3.1. Class Dojo - classroom management app that allows parents to see in real time how their student is doing in class. this can be used on any device: laptops, iPhones, iPads, Andriod tablets and phones as well as smartboards. As a teacher I can use this to add and subject points, according to students behavior, instantly. Their parents could look and see how their child was doing in real time.
3.2. Nearpod - enables teachers to use their iPads to manage content on students' iPads, iPhones, iPods or Macs. The students would have to log in with a special code. Once they do, my presentation pops up, but I control the pace at which it moves. I can also put questions in for the students to answer as we move through the presentation.
3.3. Planbook - teacher lesson planner that allows you to easily manage your plans, easier and from anywhere, without having to carry around an actual pencil and paper planbook. This one pretty much speaks for itself as to how a teacher might use it.
3.4. TeacherKit - this app is a teacher's "Swiss Army knife". Create a seating chart, record attendance, log behavior, and track grades with a few taps. This is a really neat app that I think would be great to use next year to help me stay on top of their grades.