Web 2.0 Tools
by Toby Roelfsema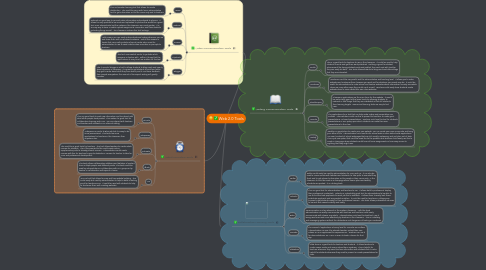 1. Video Communication Tools
1.1. Yasssu
1.1.1. This is a broader learning tool that allows for media distribution. This could be very useful as an administrative tool to get information out to the community and to teachers.
1.2. Gabcast
1.2.1. Gabcast is a great way to connect video information and podcasts to phones. It allows for easy podcast to be made and uploaded to phones this would be a great tool as an administrator but the useless in the classroom are much greater. It is an easy way to have a mobile upload assignments, reminders, and have students uploading things as well. The classroom is where this tool belongs.
1.3. Screenr
1.3.1. With screenr you can easily make educational videos wherever you are and share them with an enclosed audience. Not all the viewers or hassle that come with youtube of social media sites. Great for administrators to use to send mobile video reminders or prompts to teachers.
1.4. Clipshack
1.4.1. This tool is somewhat similar to youtube which everyone is familiar with. Suffice it to say that the applications at every level are endless for this tool.
1.5. Blogger
1.5.1. Like it sounds, blogger is a tool to allows students to blog easily and openly about whatever is necessary. It is great to get students to write and when they get to write about what they care about, post it, and have feedback from people everywhere, the amount of time spent writing will greatly increase.
2. Wikis/Innovative Tools
2.1. BluWiki
2.1.1. This is a good tools to post new information and to interact with what other people have posted. This makes it a great tool for collaborative learning and PLCs. You can interact with teachers and teachers with students in an informal setting.
2.2. Wikispaces
2.2.1. Wikispaces is similar to BlueWiki but it is easy to be more personalized. This tools has more applications for teachers in the classroom than anywhere else.
2.3. Zohowiki
2.3.1. This could be a great tools for teachers. This tool allows teachers to create whole courses for students. Also if they wanted to the could create online supplementary aids to already present courses. Administrators could create courses with this for teachers to give to students or courses for teacher to take for PLCs and professional development.
2.4. @Wiki
2.4.1. This tools allows collaborative additions and deletion of content from multiple people and different points. This tools could be used by administrators in collaboration with PLC groups or by teacher in collaboration with specific classes.
2.5. Wix
2.5.1. Wix is a tool that allows for easy and free website building. This could easily but used by administrators to help to build a starting point for teachers PLNs. It could be used with students to help to familiarize them with creating websites.
3. Writing Communication Tools
3.1. Tumblr
3.1.1. This is a great tools for teachers to use in the classroom. It could be used to help students to write and get their work published. Nothing is good for student achievement like having students write and publish their work and with tumbler they can easily do both. This tools allows students to blogs and read others blogs that they are interested.
3.2. WordPress
3.2.1. WordPress could be very useful and the administrative and teaching level. It allows you to make websites and customize them however you want and for whatever your needs may be. It could be useful for administrators to make school and teacher websites where information is easily accessible. There are many other ways they could use it as well. Teachers could easily have students create websites here or even create their own class websites.
3.3. StumbleUpon
3.3.1. Classroom applications are the main focus for this website. It would be particularly good at the lower levels by allowing students to research or find things that they are interested in that still relates to their learning targets. Games and learning tools are easy to find here.
3.4. Animoto
3.4.1. The applications for a tool that can help make videos and presentation are endless. Adminstrators could use this to present to teachers, to make grant presentations, or board presentations. Teachers could use this tool for students presentations or as a proxy upon which students can make their own presentations to the class.
3.5. Weebly
3.5.1. Weebly is a great place to create your own website. You can create your own unique site and bring your ideas to life. Administrators could use this for school wide or even district wide applications. I've seen hundred of school webpages that are old, visually unpleasing, and just plain out of date. This is just one option that could be used the fix the problem and teachers could easily use this to create a class page where students could have at home assignments or have easy access to anything that they might miss.
4. Collaborative Learning Tools
4.1. Twitter
4.1.1. Twitter could easily be used by administrators for PNLs and PD. It can also be used to communicate with teachers and students, to take polls to see what they think, and to get relevant information out to people in their community. In the classroom it could be used as a class page where lesson plans and weekly schedules are posted. It is a linking tools.
4.2. LinkedIn
4.2.1. This is a great tool for administrators and teachers to use. It allows both to professional display their professional credentials. LinkedIn is a absolutely great tool for administrators to be able to use to find the best applicants for each job that is available. It allows them to easily look throw potentials applicants and see possible matches. It could be used for teachers in college prep courses to get students ready for their professional careers. This tools allows professional resumes to be sent and viewed instantly and easily.
4.3. Bebo
4.3.1. Communication is a key element in the modern classroom. With this tools administrators can easily communicate with teachers and teachers could easily communicate with classes as a whole. Administrators could use this tools but I see it being used more and more effectively by teachers in the classroom. This is a chatting and messaging systems without the distractions and dangerous of texting or Facebook.
4.4. YouTube
4.4.1. The amount if applications at every level for YouTube are endless. Administrators can use it to educate teacher, upload their own videos, or as a supplement for expensive PD. Teachers can use it for demonstrations, an A-SET, or even to teach a lesson for that day.
4.5. Slideshare
4.5.1. Slide share is a great tools for teachers and students. It allows teachers to create Power Points and view or share them anywhere. This is helpful for teachers whenever they need to share information with students but it is also helpful for students whenever they need to present or create presentations for class.