Digital tools to increase academic success for the adult learner.
by scott slater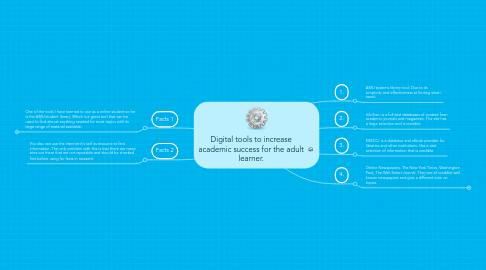 1. 1.
1.1. AMU systems library tool: Due to its simplicity and effectiveness at finding what i need.
2. 2.
2.1. InfoTrac: is a full-text databases of content from academic journals and magazines. The site has a large selection and is credible.
3. Facts 1
3.1. One of the tools I have learned to use as a online student so far is the AMU student library. Which is a great tool that can be used to find almost anything needed for most topics with its large range of material available.
3.1.1. Define actions as necessary
4. Facts 2
4.1. You also can use the internet it's self as resource to find information. The only problem with this is that there are many sites out there that are not reputable and should be checked first before using for facts in research.
5. 3.
5.1. EBSCO: is a database and eBook provider for libraries and other institutions. Has a vast selection of information that is credible.
6. 4.
6.1. Online Newspapers: The New York Times, Washington Post, The Wall Street Journal. They are all credible well known newspapers and give a different view on topics.
6.1.1. Dependencies
6.1.2. Milestones