DIFFERENTIATION & COLLABORATION
by Avanthi Thrimawithana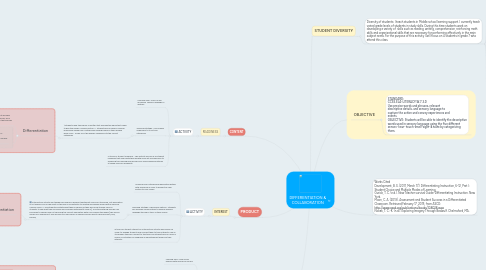 1. STUDENT DIVERSITY
1.1. Diversity of students: I teach students in Middle school learning support. I currently teach varied grade levels of students in study skills. During this time students work on developing a variety of skills such as reading, writing, comprehension, reinforcing math skills and organizational skills that are necessary for performing effectively in the main subject areas. For the purpose of this activity I will focus on 4 students in grade 7 who attend this class.
1.1.1. Student A (Faiz)- Background-Male- Nationality- Pakistani. Eldest of two siblings - Socio economic status- Very high Socio Economic status,( which at times can be stumbling block for his learning) - Characteristics- Does not engage in conversations with adults. Has few friends ( Mostly older to him) - Thinking/ Learning style- Visual & Kinesthetic, Requires constant motivation to be on task. - Exceptionalities- Diagnosed with ADHD and Behavioral issues - & learning gaps. Interests- Motor car racing, football
1.1.2. Student B (Faris)-Background-Male- Nationality: Malaysian. Eldest of 2 brothers. - Socio Economic Status- Moderately high. - Characteristics- Friendly and accommodating - Thinking & Learning Style- Kinesthetic & visual learner. -Exceptionalities : ADHD-Predominantly inattention Type ,needs organizational skills. -Interests- Loves baking & cookery books
1.1.3. Student C (Ranjan)- Background-Gender- male -Nationality: Indian. Eldest of 2 brothers. - Socio Economic Status- Low - Characteristics- Friendly , Hardworking - Thinking & Learning Style- Visual & auditory learner. -- -Exceptionalities : Needs Language skills reading, writing and comprehension . -Interests- Enjoys working with computers & programming.
1.1.4. Student D (Madhu)-Background- Gender-Male Nationality: Indian- Eldest of 2 siblings - Socio Economic Status- moderate - Characteristics- Friendly , Hardworking , Immature for grade level - Thinking & Learning Style- Visual & auditory learner. Exceptionalities : Needs organizational & comprehension skills. - Interests-Reading new informative texts
2. OBJECTIVE
2.1. STANDARD: CCSS.ELA-LITERACY.W.7.3.D Use precise words and phrases, relevant descriptive details, and sensory language to capture the action and convey experiences and events. OBJECTIVE: Students will be able to identify the descriptive words used in sensory language using the five different senses- hear- touch-smell-sight-& taste by categorizing them.
3. PROCESS
3.1. LEARNING PROFILE
3.1.1. ACTIVITY
3.1.1.1. Learning Goal-:How do we express detail using our senses.
3.1.1.2. Teaching Strategy:Small group instruction. The students will be in groups for this activity to be able to express to each other what they feel in this sensory activity.
3.1.1.2.1. 1.The teacher hands each student a paper bag with a random object. 2. Students are paired up.3. Each student after having a look at their object takes a turn with their partner to describe what is using sensory language .Forex: drawings similes sounds like a....smells like....... .The guess is revealed after students have produced a drawing, a model,or a poem based on the communication of sensory details.
3.1.1.3. In terms of their learning profile they would all be given varied products using their learning style to to comprehend sensory language.
4. CONTENT
4.1. READINESS
4.1.1. ACTIVITY
4.1.1.1. Learning Goal- How can we recognize sensory language in writing?
4.1.1.2. Teaching strategy- Use Graphic Organizers to to list and categorize.
4.1.1.2.1. 1.Students read two pieces of written text and identify which text is able to give the reader a clearer picture 2 Students will be given a reading individually based from Smithsonian reading based on their reading lexile score. 3.They fill in the graphic organizer into the correct categories.
4.1.1.3. In terms of student readiness - This activity will focus on student readiness that aligns with their growth mind set.The approach to achieving this learning goal would be by using reading materials at varied levels of readability.
5. PRODUCT
5.1. INTEREST
5.1.1. ACTIVITY
5.1.1.1. Learning Goal-Categorizing descriptive details with relevance in order to presents a clear picture to your reader.
5.1.1.2. Teaching Strategy- Expression Options- Students will be given varied options to express sensory language through a topic of their choice.
5.1.1.2.1. Introductory activity:The teacher will display 3 different Restaurant menus on the board, but description is not specific.For ex.The meat on this dish is so fantastic it's roasted and glazed served with a delicious creamy sauce. 2. The students illustrate what they've chosen as their dish.3.The teacher calls on students to see what they've chosen and compare with what it really is.[ A picture with pig knuckle can be shown to explain how not choosing the correct descriptive detail can mislead the reader.]This will be shown as a PowerPoint. This will lead to a discussion on sensory words used to describe food, cars, houses,
5.1.1.3. In terms of student interest-An introductory activity was chosen as "food" to engage students and connect them to their interests. Like all 7th graders they will connect to this topic.The students will be given a choice of activities for designing an advertisement based on their interests.
6. Works Cited Development, B. S. (2011, March 17). Differentiating Instruction, 6-12, Part I: Student Choice and Multiple Modes of Learning. Gurick, T. C. (n.d.). New Teacher survival Guide-Differentiating Instruction. New York. Moon, C. A. (2013). Assessment and Student Success in a Differentiated Classroom. Retrieved February 17, 2015, from ASCD: http://www.ascd.org/publications/books/108028.aspx Novak, T. C.-K. (n.d.). Exploring Imagery Through Beowulf. Chelmsford, MA.