Recognition
by LA Gates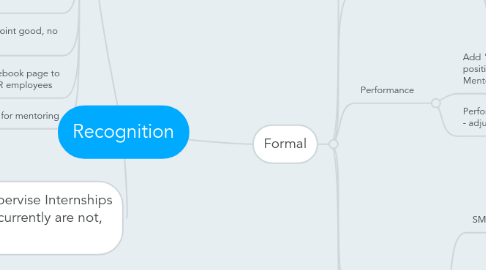 1. Formal
1.1. Awards
1.1.1. Completion Certificate for Protege
1.1.1.1. Now the work begins after completion of the program
1.1.2. Plaques
1.1.2.1. one for each area
1.1.2.1.1. use assessment and eval scores
1.1.3. Clover
1.1.3.1. Each leaf represents a person they mentored
1.1.4. Gold Star Pin
1.1.4.1. Recognized by director
1.1.4.1.1. It's a sacrifice because of work overload
1.1.4.1.2. Distinguishes them from others in office
1.1.4.1.3. both Mentors and SMEs
1.1.5. Door sign (star)
1.1.6. Lanyard
1.2. Incentives to participate
1.2.1. Going for promotion, bonus points for serving as a mentor
1.2.2. Possible to reduce caseload in exchange for mentoring?
1.2.2.1. maybe for three months
1.2.2.1.1. Establish criteria
1.2.3. Lower number of 26s
1.2.3.1. However there is a min number of required closures by RSA
1.3. Performance
1.3.1. Add "tech assistance" to all employees' position descriptions (e.g. 4 for SME, 5 for Mentor)
1.3.1.1. establish criteria
1.3.2. Performance Evaluation system - adjust for serving as mentor
1.3.2.1. Need specific measures to justify the adjustment
1.3.2.1.1. quality, consistency, efficiency
1.4. Events by Area
1.4.1. SME event
1.4.1.1. standards set to attend like Mentor summit, competencies
1.4.1.1.1. Those SMEs that haven't been used, should look into why they weren't used
1.4.2. Mentor Summit/Retreat (optional) fun activities
1.4.2.1. helps them to build own toolkit
1.4.2.2. Statewide
1.4.2.3. develop criteria to allow folks to attend
1.4.2.4. Breakout sessions
1.5. Recognition
1.5.1. Protege recognition
1.5.2. Area SME of the Year Award
1.5.2.1. Need to establish criteria
1.5.3. Peer Recognition
1.5.3.1. 5-star rating in My Profile in SharePoint
1.5.4. Area Mentor of the Year
1.5.4.1. Nominated by their peers
1.5.4.2. Nominated by proteges
1.5.4.2.1. Need to establish criteria
1.5.4.3. Nominated by supervisors
2. Informal
2.1. Positive Feedback
2.1.1. Send letter to spouse/partner highlighting achievements
2.1.2. Grab box of trinkets
2.1.3. Trading cards
2.1.4. Thanks a latte, etc.
2.2. above and beyond award, dinner with spouse certificate
2.3. annual recognition
2.4. Monthly staff meeting kudos based on customer input, was issue, stopped doing it (LC)
2.5. ideas on SharePoint good, no need to add
2.6. Update Facebook page to recognize VR employees
2.7. used LinkedIn, endorse for mentoring
3. Sidebar: VR employees that supervise Internships should be recognized too and currently are not, usually a CRC counselor