CRM
by Mikko-Petteri Latosaari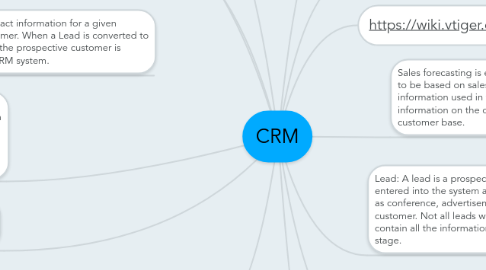 1. QUOTES: A Quote is a records information for a sales quotation, i.e. price, quantities, and other terms, for a potential sale to prospects. The CRM system supports you in the creation of quotes for potential customers.
2. Opportunity: Opportunity represents prospect with plentiful chances of generating revenues. When you determine a lead could generate a potential sale, the Lead will be converted to an Opportunity. In addition, an Organization and Contact entries for this lead will be automatically created in the CRM system. Each businesses will determine when a lead should be converted to an Opportunity. For example, a business may decide a lead that requests a quote can be converted to an Opportunity.
3. Lead: A lead is a prospective customer. In a CRM system, prospective customers are first entered into the system as leads. You may collect leads from your marketing events such as conference, advertisement, trade show etc. The goal is to convert a lead into a customer. Not all leads will result in a sale and be converted into a customer. This lead will contain all the information about the contact or the organization available at this sales stage.
4. Purchase Order: A purchase order (PO) is a commercial document issued by a buyer to a seller, indicating types, quantities, and agreed prices for products or services the seller will provide to the buyer. The Purchase Order is a formal notification and approval for a customer order, and kicks off the next stage in the sales process when the PO is received.
5. Sales Order: A Sales Order is a document used internally by businesses to track and complete a customer order. A sales order may be for products and/or services. A CRM system allows you to record and manage Sales Orders and related information as part of your sales process. Once a quotation is approved, a Sales Order can be created directly from a Quote detail view. All the relevant data from existing records will be automatically populated in the Sales Order.
6. CRM is a system for managing a company's interactions with current and future customers
7. Contact: A Contact is the contact information for a given customer or prospective customer. When a Lead is converted to an Opportunity, a Contact for the prospective customer is automatically created in the CRM system.
8. http://en.wikipedia.org/wiki/Customer_relationship_management
9. https://wiki.vtiger.com
10. Sales increase beacause of the loyal customers and new customers
11. CRM benefits
12. Easy to find all the coontacts
13. Opportunity to find new clients
14. Sales forecasting is estimating what a company's future sales are likely to be based on sales records as well as market research. The information used in them must be well organized and may include information on the competition and statistics that affect the businesses' customer base.