Event Industry-Part 3
by Jasmine Wiggins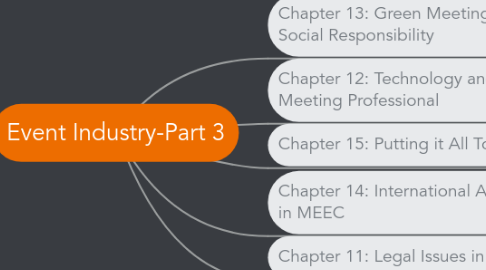 1. Chapter 11: Legal Issues in the MEEC
1.1. Negotiation -The process by which a meeting planner and a hotel representative (or other supplier) reach an agreement on the terms and conditions that will govern their relationship before, during, and after a meeting, convention, exposition, or event.
1.1.1. Negotiation -Win-Win" vs. the real "Winner" *In a "win-win," both parties feel satisfied about the outcome vs. the real "winner" who is better prepared entering the negotiation and has a good idea of what he or she wants and gets it. -"Dates, Rates, and Space" *You can only have two. *The planner can get the dates and meeting space he or she wants for a meeting, but may have to give a little on the rate.
1.1.1.1. Negotiation Strategies -Do Your Homework *Develop a "game plan" of the outcomes sought and prioritize your needs and wants. Learn as much about the other side's position as you can. -Keep Your Eyes on the Prize *Don't forget the outcome sought. -Leave Something on the Table *It may provide an opportunity to come back later and renew the negotiations.
1.1.1.1.1. Negotiation Strategies *Don't Be the First to Make an Offer *Letting the other person make the first move sets the outside parameters for the negotiation. -Bluff, But Don't Lie -When There's a Roadblock, Find a More Creative Path *Thinking "outside the box" often leads to a solution.
1.2. Negotiation Strategies -Know about the Property *Mix between transient and group business *Seasonal fluctuations can be driven by outside factors ~Local cultural events *Arrival and Departure patterns *Primary source of hotel revenue is sleeping rooms ~More than 73% of room profit goes to bottom line ~Rooms generate 67% of all hotel revenue *Food and Beverage is the second largest source at 25% *Rack Rate is the published room rate *Most properties use Yield Management Program Methods *Guest Room to Meeting Space ratio
1.2.1. Negotiation Strategies -Information to Know about Your Group *Profile of Attendees ~Who they are/What they do ~Demographics *History ~Previous meeting/event locations ~Room block negotiated vs. actual pick-up ~Food and Beverage guarantees vs. actual
1.2.1.1. Negotiation Strategies -Information to Know about Your Group *Net Worth of Meeting ~Summary of all revenue generated for the property -Sleeping rooms -Food and Beverage -In conjunction events -Meeting space rental -Audio-visual equipment rental -Business services -Recreational events *Hotel Post-Conference Reports
1.2.1.1.1. Negotiation Strategies -Flexibility *Alter program format *Revise space requirements *Release 24-hour holds *Different dates *Change arrival/departure pattern
1.3. Contracts -Offer *Can be terminated in three ways ~Expiration of specific time ~Expiration of reasonable time ~Specific revocation by offeror *Hotel or other venue is usually the offeror ~Written agreement proposed by hotel after negotiation *Meeting sponsor becomes offeree ~Typically a counteroffer is made.
1.3.1. Contracts -Acceptance *Acceptance: unequivocal; in same terms as the offer Acceptance must be communicated to the offeror using same means as the offeror used Offer made in writing; acceptance must be in writing Silence on the part of the offeree is never construed as acceptance Offeror cannot impose an agreement on the other party by stating that the contract will be assumed if no response is given by a specified date
1.3.1.1. Contracts Consideration Price negotiated and paid for the agreement Generally involves money paid for the other party's promise to perform certain functions Can be exchange of mutual promises (barter) Must be based on whether the act or return promise results in a benefit to the promisor or a detriment to the promisee. Important that both promises be legally enforceable to constitute valid consideration.
1.3.1.1.1. Contracts Oral vs. written Better to have a written document Less chance for a misunderstanding Agreements that must be in writing Contracts for the sale or lease of real estate Contracts that are not to be performed within one year of agreement A valid written contract must contain Identity of the parties Identification of the subject matter Terms of agreement Statement of consideration
1.4. Contracts Types of contracts Agreement with the hotel and/or trade show facility Ancillary services Temporary employees Security Audio/visual equipment Destination management (e.g., tours and local transportation)
1.4.1. Contracts Types of contracts Entertainment Outside food and beverage Exhibitor services/decorating Housing bureaus Travel agencies Airlines Rental car companies
1.4.1.1. Negotiating Contracts Go into the negotiations with a plan Have an alternative location or provider in mind Be thorough Don't assume anything Be specific Beware of language that isn't specific Don't accept something because it's pre-printed Read the small print Look for mutuality in the contract's provisions
1.4.1.1.1. Negotiating Contracts Never give one party the unilateral right to do anything Meeting contract provides "package" of funds to hotel Never sign a contract where major items are left to future negotiation Specify special room rates for staff and speakers
1.5. Negotiating Contracts Cancellation payment specified in dollars and based on hotel's lost profit, not lost revenue. Measure lost room revenue sales against normal occupancy for particular time of the year, not against hotel's capacity. Damages should not be payable if hotel resells space. Do not agree to any changes that are not spelled out in contract or later addendum.
1.5.1. Contract Provisions Attrition Clauses (Performance or Slippage) Provide for payment of damages to the hotel when meeting sponsor fails to fully utilize the room block specified in the contract. Damages should never be payable if hotel is able to resell the rooms Contract should impose a specific requirement on hotel to try to resell the rooms Require the hotel to resell the rooms in the organization's room block first
1.5.1.1. Contract Clauses Cancellation Clause Provides for damages if the meeting is canceled for reasons other than those specified, either in the same clause or in the termination provision. Cancellation is provided without damages if it occurs within a specified time period prior to the meeting. Damages sometimes stated on a sliding scale; greater damages being paid the closer to the meeting date that the cancellation occurs.
1.5.1.1.1. Contract Clauses Termination ("force majeure" or "Act of God") Permits either party to terminate contract without damages if fulfillment of obligations imposed in agreement are rendered impossible by occurrences outside the control of either party. Includes such things as strikes, severe weather, transportation difficulties, etc.
1.6. Dispute Resolutions Four Methods of Resolution: Privately and informally In a businesslike way that encourages continued business relationships. Give up possibility of reaching a solution and walk away from the problem Go to court and sue Resolve the dispute through other means
1.6.1. Contract Resolutions Arbitration Means of settling disputes without the courts Designed for quick, practical, and inexpensive settlements Either party can utilize lawyers Minimum of pre-trial procedures Parties also agree that the results are binding and cannot be appealed to a court of law
1.6.1.1. Risk Management Stages of Risk Management: Preparedness (assessment and analysis) Mitigation Response Recovery
1.6.1.1.1. How Risk Management Affects Your Event Preparedness and Mitigation Contracts – narrow or shift liability to responsible party or specify damages. Insurance – shifts some liability to insurance company. Security – hiring security guards mitigates risk of injury or loss.
1.7. How Risk Management Affects Your Event Recovery Paying insurance claims for losses suffered by organizer. Actions to overcome any bad press, upset members or exhibitors. Main goal – organization can survive financially and through public relations.
1.7.1. Insurance Issues Insurance types Worker's compensation insurance Provides coverage for employees injured on the job. Comprehensive general liability (CGL) Check for events or incidents where there might be an exclusion. Alcohol server liability Part of any CGL policy.
1.7.1.1. Insurance Issues Insurance types (Continued) Association professional liability (APL) protects the organization and its officers, directors, staff, and volunteers. Convention cancellation policies are a specialized form of protection insuring against unforeseen circumstances, such as labor disputes, inclement weather, or damage to the convention or meeting facility. Exhibitors' liability policies provide protection to the organization for damage caused by exhibitors.
1.7.1.1.1. Americans with Disabilities Act (ADA) It is illegal to discriminate against or fail to accommodate people in wheelchairs, with visual or hearing impairments, food restrictions, etc. ADA applies to meeting planners and organizers. They must: Determine the extent to which attendees have disabilities Make reasonable efforts to accommodate the special needs at no cost to the attendee. Guidelines for Addressing ADA General Areas Staff training Etiquette Language Role Play Provide opportunities for persons with disabilities to identify themselves and request accommodation Membership applications Meeting registrations Certification process applications
1.8. Guidelines for Addressing ADA Accommodations for the blind and visually impaired Technology orientation Mobility specialists Tactile maps Scribes or Readers
1.8.1. Guidelines for Addressing ADA Accommodations for the deaf or hearing impaired Relay service TDD/TTY E-mail Captioning Real time or Open/Closed Interpreters ASL, PSE, SEE Oral interpretation
1.8.1.1. Guidelines for Addressing ADA Boards and Committees Minutes and documents in alternative media Braille Text files E-mail Voting Visual signals Auditory signals Conference calls using chat rooms or video Social Functions
1.8.1.1.1. Intellectual Property Music licensing The federal Copyright Act Music at a meeting is being "performed" whether it is live or recorded. The organization sponsoring the event is considered to be controlling the "performance."
1.9. Intellectual Property Recording or videotaping speakers Purpose Sell copies to meeting attendees Sell copies to those who could not attend Archival purposes Obtain written permission from the presenter
1.9.1. Labor Issues Federal Fair Labor Standards Act (FLSA) Prescribes minimum wage Requires workers subject to minimum wage must receive overtime pay unless specifically exempted by the statute. "Comp time" is legal when Given in the same week the extra hours are worked Given in another week of the same pay period The extra time off offsets the overtime worked (i.e., at the time-and-one-half rate).
1.9.1.1. Labor Issues Employees: Exempt (from overtime pay requirements) and non-exempt Full-time or part-time Temporary or Independent Contractor
1.9.1.1.1. Ethics in MEEC Ethics: Guides our personal and professional lives Harmonize ethics on three levels: personally, interpersonally, and professionally Loyalty to personal friends vs. employer Huge and important topic.
2. Chapter 12: Technology and the Meeting Professional
2.1. Before the Event or Conference Desktop uses Microsoft Office suite Facebook, Twitter, conference wikis, etc. Third-party software tools for cross-organizational uses and coordination Scan*Star Ethereal PortMon Accepted Practices Exchange (APEX) – created Apex OfficeReady for Meeting and Event Planning, a series of templates for Word programs
2.1.1. Virtual Site Selection and Research Online Request For Proposals (RFPS) Open bidding on the Web Virtual tours Hotel-directed site visit tool 360-degree views of properties Industry information portals CVB Web pages Mpoint
2.1.1.1. Marketing and Communication Event Websites Best websites integrate a two-way strategy (i.e. blogs/comments or Twitter fountain) Core rules for a successful conference website: Need a clear, easy way to find information. Focus on the five W's: "who, what, where, when, and why?" Focus on "making the sale": The payment process on the registration form.
2.1.1.1.1. Marketing and Communication Web sites and Strategic Communications What is a successful Web site change according to your criteria and your perspective? Clear, easy-to-find information Focus on the who, what, where, when, and why of the conference on the Web site Make a sale in a way that doesn't scare away the customer Create an efficient, customer-friendly Web site
2.2. Marketing and Communication Web 2.0 & Social Media (Networks) Use all the interactive online tools available Social Networks: Facebook Twitter LinkedIn Pathable (www.pathable.com ) Ning (www.ning.com ) MeCo (www.groups.google.com/groups/meco)
2.2.1. Marketing and Communication Really Simple Syndication (RSS) A tool where a Web site creates or gathers a feed of information about a specific topic and publishes it as an RSS feed that can be accessed on the site. Constantly provides updated information Customer then returns to get latest data/updates Google and Yahoo have free personal services to gather and customize a home page to provide pertinent data to the user
2.2.1.1. Marketing and Communication Blogging - An online diary that is posted to the Web by an individual. Allows anyone a forum to voice their opinion A two-way medium that allows readers to respond and further the discussion Many blogs use RSS feed information Maintains a dialogue with your peers and customers Keeps your organization in the front of the minds of potential customers
2.2.1.1.1. Marketing and Communication Podcasting – The method of distributing multimedia files, such as audio or video programs, for playback on mobile devices and personal computers. Allows listeners/customers access to content that they can listen to at their leisure Marketing to customers who are interested in your product or services and can control their access Allows a more intimate contact as it uses MP3 sound technology
2.3. Marketing and Communication Room Design Software Computer-aided Design (CAD) software to graphically enhance room design presentation Great range in price and design Can create 3D tour of room setups Hotels can enhance by providing actual room images to incorporate into the images
2.3.1. Marketing and Communication Selling The Show Floor A type of virtual enhancement in the trade show floor selling process Provides updated layouts Helps buyer locate an appropriate floor space Use of colors to help design
2.3.1.1. Marketing and Communication Online Registration Use of Web for pre-registration. Two versions are: IntroNetworks and Leverage Software Need to carefully integrate data collected online with what is collected manually Unexpected added expenses Additional reports
2.3.1.1.1. Marketing and Communication Desktop Applications Microsoft Office Suite. MS Office 2010 offers online access to applications APEX Technology Advisory Council – APEX Ready for Meeting and Event Planning – templates throughout Word, Excel and PowerPoint to help conform to standardized APEX guidelines.
2.4. Setting Up Infrastructure VOIP Voice Over Internet Protocol Basically an Internet telephone Skype is an example Near Field Communications (NFC) & Radio Frequency Identification Device (RFID) Interactive name tags CEU tracking Interactive message centers
2.4.1. Setting Up Infrastructure Lead Retrieval System Information coded onto a badge for each attendee and then retrieved electronically for use Audience Response System (ARS) Similar to technology in an audience participation game show Can be tracked online as a survey or poll Can be streamlined into PowerPoint presentations
2.4.1.1. Setting Up Infrastructure Attendee Blogs and Tweets AKA "microblogging" – provide wireless broadband in all meeting rooms and pre-function spaces. Twitter – 140 characters and access from any mobile device. Tweeting during a meeting may indicate level of boredom with presentation. The hash tag (#) establishes a threaded conversation that attendees can join.
2.4.1.1.1. Setting Up Infrastructure Mobile Technologies Smart Phones (3G & 4G) high speed transmission Personal Digital Assistants (PDA) – incorporates Internet access, calendars, etc. Bluetooth – a telecommunications standard allows mobile devices to communicate with each other. Mashups The combination of two services to create a third hybrid tool serving a specific need (i.e. Google Maps and Craig's List)
2.5. Virtual Gatherings Webinars Online services that allow audio, data, and streaming content to be delivered over the internet. ReadyTalk or TelePresence Videoconference Second Life 3D virtual community; users represented by Avatars. Possible to hold virtual meetings in Second Life. Virtual Trade Shows Digitell's VirtualU – creation of online space with hypertext links. Can extend real-life trade shows by 2 or 3 days.
2.5.1. Future Trends Corbin Ball recently listed the top ten trends in technology for the MEEC industry. They are: 10. Mobile phones are morphing into advanced mobile meetings technology platforms. 9. Social networking technology finds numerous meeting applications 8. Micro-Blogging (Twitter) is proving particularly well suited for events. 7. Social review sites are moving to meetings 6. Strategic meetings management program (SMMP) options are increasing. 5. More video to promote and improve the meeting experience. 4. Audience response technology gets cheaper and more diversified. 3. Low cost, two-way, mobile lead retrieval options for meetings and tradeshows attendees are emerging. 2. Telepresence is finally gaining a foothold at hotels for virtual meetings. 1. Despite the economic downturn and the increased use of virtual meetings technology, face-to-face meetings and tradeshows remain viable.
3. Chapter 13: Green Meetings & Social Responsibility
3.1. Why Go Green – The Bottom Line Economic Reasons: Companies going green are reporting higher gross margins, return on sales, return on assets & stronger cash flow. Switch from bottled water to pitcher water – save money. Reusing badge holders / reducing paperwork. Social Reasons: Businesses should contribute to the welfare of the community. Employees happier & healthier / employee retention increases More appealing image for potential employees Recycling helps underprivileged Triple bottom line – "People, Planet and Profit"
3.1.1. Opportunities to Go Green Create Standards: establish environmental standards in your business. Use Technology: take advantage of technology to reduce your need for paper. Choose a Local Destination: chose a destination close to where your participants live to reduce the distance that must be traveled to attend. Reduce, Reuse and Recycle: add proper recycling bins to your event supply list, and train your staff in the proper ways to recycle. Volume Up: encourage food and beverage providers to serve sugar, creamer, and other condiments in bulk dispenser. Eat Local: speak with the banquet manager about using local fruits and vegetables that are in season. Decorate with Nature: use local flowers and plants to decorate your tables and leave them in pots so that you can use them as gifts or prizes. Use Paper Wisely: if you must print materials, use chlorine-free, recycling paper, and vegetable based inks. Save Energy: look for venues and hotels that have an energy efficient policy in place.
3.1.1.1. Greenwashing Any misrepresentation that leads the consumer to believe that their policies and products are environmentally responsible, when their claims are false, misleading or cannot be verified. Jay Westerveld, 1968 Becoming more difficult for consumers to distinguish claims of being green. "Green sheen" – similar term Companies may be spending more money to notify customer than the actual green efforts.
3.1.1.1.1. Greenwashing Identifying. Sin of the hidden trade-off: providing an organic product that requires shipping instead of an equally beneficial local product. Sin of no proof: stating that eco-friendly cleaners are being used but not being able to produce evidence of these claims when asked. Sin of vagueness: using terms that are not particularly clear, such as a zero-waste conference. Sin of irrelevance: using or referencing environmental efforts or products that do not make sense (such as a water-conserving light bulb). Sin of fibbing: stating that the property or product has a specific certification when it does not, or there is no such certification existence. Sin of the lesser of two evils: claiming eco-friendly statements about products or services that are by nature, not eco-friendly. Sin of worshipping false labels: claiming third-party endorsement through the use of words or images when no such endorsement exists. Using a label, for example, that by design implies that the product is eco-friendly, when it is not.
3.2. Green Meeting Standards ASTM/APEX Green Meeting Standards Cover nine areas: Accommodations, Audio Visual, Communication, Exhibits, Food and Beverage, On-site Office, destinations, Meeting Venue, and Transportation. Accredited by ANSI – American National Standards Institute Worked with Non-Government Organizations (NGO's) and the Environmental Protection Agency.
3.2.1. Green Meeting Standards Industry Certifications Accommodations Catering / Food and Beverage Décor / Trade Show Rentals Event Logistics Printing / promotions / Gifts Transportation / Tours Venues
3.2.1.1. Evaluating Efforts Carbon Footprint Calculator Planners can see which destination sites have the least amount of carbon emissions generated by air travel based on points of origin. Planners can then offer options for attendees to offset carbon emissions. City Scorecard Ranks cities according to environmental programs administered by local convention and visitor's bureau. The ability to measure sustainability will be increasingly important.
3.2.1.1.1. Going Green Versus Sustainability Going Green: An action to curb harmful effects on the environment through consumer habits, behavior and lifestyle Sustainability: More encompassing term that includes implementing and executing a plan to save resources while improving performance. Going Green can be considered as a part of, or a by-product of sustainability.
4. Chapter 14: International Aspects in MEEC
4.1. How MEEC Varies Around the Globe Europe Root of the trade fair industry Focal point of international trade fairs and trade exhibitions Two Reasons Location Crossroads of the world Transportation network Industrial base
4.1.1. How MEEC Varies Around the Globe Europe Germany $10.5 billion annual 165,000 exhibitors in 133 international events each year 40% of exhibitors are non-European Hannover Fair, CeBIT, Domotex, Frankfurt Book Fair, Biotechnology Italy Milan – fashion trade fairs Rome
4.1.1.1. How MEEC Varies Around the Globe Europe United Kingdom 1,800 exhibitions (2001) 17.3 million visitors 450 venues (Birmingham Spring Fair, World Travel market, Furniture Show, Birmingham Fall fair, Security Solutions) The Netherlands and Belgium Eastern Europe Positive impact of the European Union
4.1.1.1.1. How MEEC Varies Around the Globe Asia Exhibitions Focus on High technology Consumer electronics Food Taiwan and Singapore are leaders Singapore – major "destination" city, government very involved in promotion.
4.2. With the help of their governments, European industrial centers develop trade fair facilities that are unrivaled in other parts of the world.
4.3. How MEEC Varies Around the Globe China Festival and special events (FSE) – increased importance incorporating local arts and culture, but government control and oversight is extensive. Incentive travel – new concept in China with great growth potential: China Incentive Business Travel & Meetings Exhibition (CIBTM) and Incentive Travel & Convention Meeting (IT & CM China). Thailand
4.3.1. How MEEC Varies Around the Globe Africa Main centers Cairo, Egypt Johannesburg, South Africa U.S. Department of Commerce provides special assistance/rates Cape Town International Convention Centre, Durban International Convention Centre, Gallagher Estate, Johannesburg Expo Centre, Sandton International Convention Center, Tshwane Events Centre.
4.3.1.1. MEEC Around the Globe Middle East Main centers Dubai and Abu Dhabi Exhibitions Focus on Furniture Automobiles Consumer Electronics
4.3.1.1.1. MEEC Around the Globe Latin America Main centers Sao Paulo, Brazil Santiago, Chile Mexico City Las Americas Exhibition Center
4.3.1.1.2. The huge population base of Latin America makes it well suited for trade fairs and exhibition.
4.3.1.2. Both Dubai and Abu Dhani strongly promote the duty-free zones near their airports and the extensive duty-free shopping available at their facilties.
4.3.2. The Johannesburg Expo Centre is the largest exhibition space on the contienent.
4.4. World Trade Centers Association Not-for-profit, apolitical organization Promotes the concept of World Trade Centers to bring together business and government agencies 300 World Trade Centers in 91 countries serving over 750,000 international businesses Many have exhibition facilities Sponsor trade meetings and educational events
4.4.1. International MEEC Considerations Lessons to be learned from overseas Excellence of infrastructure Public transportation and access Logistics Specialized departments for exhibitors Simplified shipping and storage Support organizations Government agencies and trade promotion organization involvement
4.4.1.1. International MEEC Considerations Methods of Exhibiting As part of government-sponsored pavilions Under auspices of another company Joint ventures between companies "Going it alone": On their own
4.4.1.1.1. International MEEC Considerations Terminology – Different in other parts of the world; for example in Germany: Ausstellung = Consumer Show Congress = Meeting or Convention Gesellschaft = Company or Society GMBH = Limited Liability Company Messe = Trade Fair Messegelande = Fair site PLC = Public Limited Company Trade Exhibition = Trade Show
4.5. International MEEC Considerations Understand business protocol and cultural differences with other countries Verbal and physical greetings, hand gestures, eye contact Use of first/last names Clothing styles Hospitality customs (food and beverage) Gift giving – gift accepting Style of physical contact Business and corporate titles Class/rank
4.5.1. International MEEC Considerations Examples of Cultural Protocol Differences In Indonesia, greetings are stately and formal. Do not rush. Hurried introductions (which commonly occur in trade fair settings) show a lack of respect. In the Netherlands, always avoid giving an impression of superiority. Egalitarianism is a central tenet of Dutch society. Everyone in a Dutch company, from the boss to menial laborers, is considered valuable and worthy of respect. When interacting with French visitors to an exhibit, never use first names until you are told to do so. Germans generally take a long time to establish a close business relationship and may appear cold in the beginning. This will change with time.
4.5.1.1. International MEEC Considerations Examples of Cultural Protocol Differences Be very careful regarding what your exhibit staff wears. What is the customary business dress for the host country? What colors should not be worn? For example, avoid wearing yellow in Singapore; it is the color worn at funerals. At a business meeting in Saudi Arabia, coffee is often served toward the end of the meeting as an indication that the meeting is about to end. Also, in most Arabic countries, the left hand is considered dirty, so you should never eat or accept anything with this hand. Be sure when giving gifts or promotional materials that you do so with the right hand. When giving away gifts in Switzerland, avoid giving away knives—it is considered bad luck.
4.5.1.1.1. International MEEC Considerations Examples of Cultural Protocol Differences If a Japanese person gives you a gift, do not throw away the wrapping or tear it up. It is considered part of the gift. Aside from handshakes, there is no public contact between the sexes in many countries. Do not kiss or hug a person of the opposite sex in public—even if it is your spouse. On the other hand, in some countries contact is permitted between people of the same sex. Men may hold hands with men and even walk with arms around each other; this is interpreted as nothing but friendship. Westerners frequently find Arabic names confusing. The best solution is to request the names of anyone you meet, speak to, or correspond with. Find out their full names (for correspondence) as well as how they are to be addressed in person.
4.6. International MEEC Considerations Determining Whether to Participate Understand objectives and know the audience Difference between different fairs and expositions in the industry Determine method to measure Return on Investment (ROI) Costs Cultural consequences
4.6.1. Trade Fair Certification Program of U.S. Department of Commerce Promotes exports of U.S. products and services Endorses show organizers who manage and organize overseas events Program helps to attract more exhibitors Promotes the event Requirements: U.S. pavilion or attract 10 other U.S. companies Have a U.S. agent or office Event has taken place before
4.6.1.1. International MEEC Considerations Determining Whether to Participate Understand objectives and know the audience Difference between different fairs and expositions in the industry Determine method to measure Return on Investment (ROI) Costs Cultural consequences
4.6.1.1.1. Future Trends Rapid expansion of the MEEC industry will occur in developing countries. Rapid expansion of the MEEC industry is also occurring in China. As MEEC planners reach out to increasingly international audiences, technology will be used more and more to promote events and to put forth "virtual" aspects of those events. Environmental factors such as natural disasters will cause ripple effects well beyond local boundaries. As proud as many nationalities are of their "native" language, English is increasingly the common language of the MEEC industry.
5. Chapter 15: Putting it All Together
5.1. An MEEC Case Study The Annual Conference of the American Small Animal Association (ASAA) -Director of Meetings for ASAA – Sue Richardson (full-time employee) -Setting Goals *Review previous conferences and evaluations *Read mission statement of association *Focus on ROI (Return on Investment) *Create operational and educational objectives
5.1.1. An MEEC Case Study -Budget *Look at past meeting sponsors *Research/Hire an ESC (Exposition Services Contractor) *Research/Hire an Audiovisual (AV) Company ~Give logistics and specs to AV and ESC bidders *Transportation *Speakers *Temporary staff *Security *Insurance *Special services (e.g., ADA compliance) *Other
5.1.1.1. An MEEC Case Study -Income *Registration fees ~Categories/tiers of registration ~Exhibitors registration fee included in their fees ~Speakers usually pay reduced registration *Exhibitor rentals and fees *Rebate from hotel rooms, transportation, ESC *Income from SAPDC Certification Program (educational opportunity linked to conference) *Speakers *Temporary staff
5.1.1.1.1. An MEEC Case Study -Request for Proposal (RFP) *List of cities under consideration *Preferred dates *Detailed grid of meeting room needs *Special requests/needs *Food & Beverage needs *Detailed history grid *Detailed questionnaire (policies, fees, availability, etc.) *Sent to Destination Marketing Organization (DMO) or Convention and Visitors' Bureau (CVB) for distribution.
5.1.1.2. The income will offset the expenses for the meeting.
5.2. An MEEC Case Study -First Site Inspection *Day Two ~More detailed tour of convention center ~Meet with Destination Management Company (DMC) ~Discuss marketing options with facilities ~Test other possible sites for special events ~Tour other possible hotels ~Check into second possible headquarters hotel ~Sample food and tour facilities of second hotel
5.2.1. An MEEC Case Study -First Site Inspection *Day Three ~Tour of possible entertainment/event locations *Have three-day first site inspection at the second possible host city -Decide Which City Will Host Event *Look at overall picture ~Room availability ~Conflicts with other meetings
5.2.1.1. An MEEC Case Study -Second Site Inspection (Three days) *Finalize non-host properties *Select off-site venues *Select the DMC *Select transportation company *Begin contract negotiations *Meet with key personnel ~Convention Services Manager (CSM) ~Sales and Catering Managers ~ESC contact
5.2.1.1.1. An MEEC Case Study -Marketing Committee *Meet with host city marketers *Meet with in-house marketers *Determine which marketing tools will be used to market the events *Finalize meeting program *Create press releases *Divide responsibilities among the committee
5.3. An MEEC Case Study -Partnerships *Housing Bureau *Local DMC *Speakers' Bureau *Online Registration Company *Sponsors *The ESV and AV Company -Issue and sign contracts for each
5.3.1. An MEEC Case Study -One Year to Six Month Countdown *Use meeting timeline *Proofread marketing pieces and program *Finalize sponsors *Finalize and confirm speakers *Finalize floor plans of exhibition space *Finalize details of receptions and dinners *Detail signage and banners
5.3.1.1. An MEEC Case Study -Six Month Countdown *Issue press releases *Early registrations *Finalize actual meeting room designations *Finalize menus of receptions and dinners *Complete arrangements for special events *Work with DMC to finalize transportation *Ordering of signage
5.3.1.1.1. An MEEC Case Study -Five to Three Month Countdown *Reminders to speakers *Create work schedule for staff *Order badges *Closely monitor registration *Adjust hotel blocks of rooms according to registration *Coordinate last-minute changes from convention center
5.4. An MEEC Case Study -Pre-meeting Activities (Three Days Prior) *Continue weekly monitoring of registration *Final walk-throughs *Pre-con meeting of all concerned parties *Monitor setup of activities *On-site troubleshooting *Rehearsing of events *Conduct press conferences
5.4.1. An MEEC Case Study -Meeting Day Activities *Work behind the scenes *Ensure setup is correct *Conduct daily bill reviews *Track reservations against actual attendance *Coordinate guest lists *Troubleshoot last-minute problems (e.g., AV failure) *Work with exhibitor coordinators
5.4.1.1. An MEEC Case Study After the Meeting Conduct post-con meeting Acknowledge work of all team members Evaluate feedback from attendees Research and write final report of convention to company executive in charge Compare numbers with last year's convention/meeting