To what extent is the track record of the incumbent decisive in Presidential elections? (45)
by Charlie Barker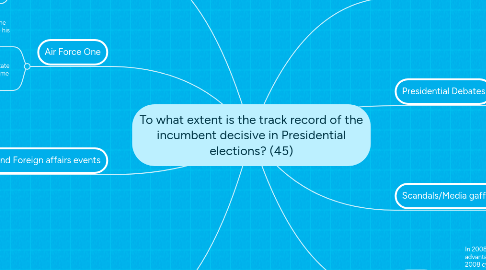 1. Media advantage
1.1. Everything the President does is newsworthy, therefore the President can appear regularly in his capacity as chief executive working with Congress and dealing with big issues, instanly making him appear more Presidential.
1.2. For example, in 2012 Obama was able to act in response to Hurrican Sandy in a way that Romney couldn't, just because he was the incumbent President. This made Obama look more Presidential.
1.3. Furthermore, in 2004 George W Bush faced a challenge from John Kerry, but at the time the public was still strongly behind his War on Terror and Bush won the election by a comfortable margin.
2. Evidence from past elections
2.1. In 2012 there is ample evidence to suggest Obama's track record was decisive. Firstly, his ground offices in Ohio and Florida had never shut down from 2008, so he had an in built campaign advantage when it came to 2012.
2.2. More importantly, Obama had initiated bailouts of major American motor industries in Ohio and Michigan, saving millions of jobs in two key swing states. His campaign ads were quick to remind the American people of this during the campaign.
2.3. Furthermore, a majority of Americans stood behind Obama's record from the first term, key issues on which Obama gained a majority of support included immigration, gay marriage, healthcare and higher taxes for the richest.
2.4. We can also argue that in 2004 Bush won based on his foreign affairs track record, and in 2008 McCain lost largely because he could not distance himself from Bush's track record.
3. October Surprise
3.1. In 2008 the October surprise perhaps just confirmed the inevitable, but Obama's reaction to the banking crisis was certainly more Presidential that McCain's.
3.2. In 2012 the October Surprise played into the hands of the incumbent, whose office allowed him to distinguish himself from Romney. Nevertheless, a significant October surprise could be decisive to the point it overcomes incumbency in some situations.
4. Air Force One
4.1. The President can use Air Force One to travel round the country free of charge on offical business. Meanwhile his competitor has to self fund all travel.
4.2. In 2012, Obama flew to Florida to address immingration reform at a prominent university. It is no coincidence that Florida is also a swing state and Obama took the opportunity to campaign for re-election at the same time.
5. Crisis and Foreign affairs events
5.1. In the 2012 election, Obama had just ordered the SEAL raid that killed Bin Laden. This gave him an advantage over Romney on foreign affairs issues.
5.2. Furthermore, in 2004 George W Bush faced a challenge from John Kerry, but at the time the public was still strongly behind his War on Terror and Bush won the election by a comfortable margin.
5.3. In 2008, the Lehman Bros Bank collapsed triggering financial crisis in the US. John McCain was linked to Bush's economic policy by the Obama campaign and found it hard to get away from the now toxic track record of Bush.
6. Presidential Debates
6.1. 2012, Romney won the first debate and cast doubt on the Obama campaign when Virginia and North Carolina started polling red. On the balance however, Obama's track record was too significant.
6.2. In 1992 Bill Clinton's outstanding performance in the debate against George HW Bush signalled a clear turning point. In this case, we could argue that the President's track record was not decisive.
6.3. Having said that, Bush was presiding over an economic recession at the time and there was also a significant third party candidate on the ticket who took votes away from Bush.
7. Scandals/Media gaffes
7.1. Sarah Palin! Her embarrassing media performance on Katie Couric became a huge drag on the McCain ticket, perhaps making him unelectable.
7.2. The 47% moment for Romney perhaps did more to alienate him from the American people than any of Obama's track record could.
8. Money
8.1. In 2008, Obama outspent McCain 2:1, his advertising advantage ended in every single swing state turning blue in the 2008 cycle. Was it the money advantage though or was it Bush's track record?
8.2. However, in 2012 Romney had comparable amounts to Obama but still lost. In this sense it is possible that where the money cancelled out on either side, the track record was in fact the decisive factor.