The Australian Curriculum: Technologies
by Adrian Franchina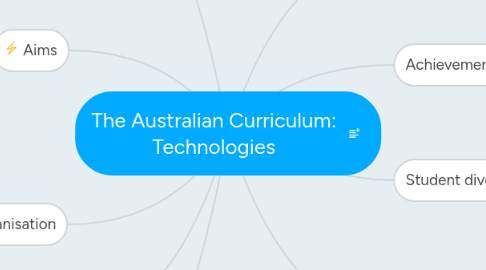 1. Strands
1.1. Skills, understanding and Knowledge in each subject are divided into two strands. The two strands that each subject are presented through are: Strand 1 - Knowledge and understanding Strand 2 -Processes and production skills
2. Aims
2.1. To ensure students can work by themselves and with others creatively when using new and old technology
2.2. To ensure students understand how technologies has developed over time
2.3. To ensure students can choose and select the right technological resources when designing and creating products, services, environments and digital solutions
2.4. To ensure students have the skills to investigate, design plan, manage, create, produce and evaluate technologies and solutions
2.5. To ensure students have the knowledge and skill set to analyse technological processes in order to identify and create solutions to a range of problems or opportunities
3. Organisation
3.1. The Australian Curriculum: Technologies Foundation to year is written assuming that all students going through year 8,9 and 10 will study two subjects: Design and Technologies
4. Key ideas of the Technologies learning area
4.1. The technology curriculum really involves students in working together to understand the problems of today, in order to design a better tomorrow through the use of technology. Students become engaged by predicting outcomes and the impacts of technological design for current and future generations.
5. Band levels
5.1. The curriculum for each technologies subject is written in bands of year levels. These band level desprecsitions provide an overview of the content each level. - Foundation to year 2 - Years 3 and 4 - Years 5 and 6 - Years 7 and 8 - Years 9 and 10
6. Content descriptions
6.1. The Australian Curriculum: Technologies includes content descriptions at teach band level. What these do is describe the knowledge, understanding and skills that teachers are expected to teach and their students expected to learn.
7. Achievement standards
7.1. From Foundation to year 10, achievement standards incite the qualifity of learning that should be demonstrated at a particular point in a students schooling. These standards reflect the distinctive practise of each subject along with aspects of learning that are common to all technology subjects.
8. Student diversity
8.1. ACARA believe that all students are entitled to learning programs that are drawn from the Australian Curriculum: Technologies which are rigorous, relevant and engaging
8.1.1. Teachers are to take account of each students individual needs and cater for them through there learning, strengths goal setting and interests. They should make adjustments where needed be
9. General Capabilities
9.1. To assist students in living and working in the twenty-first century, the Australian Curriculum teaches the knowledge, skills, behaviours needed to handle the general capabilities.
9.1.1. The seven general capabilities: -Literacy -Numeracy -Information and communication technology -capability -Critical and creative thinking - Personal and social capability - Ethical understanding - Intercultural understanding