Governance of AAMC (Association of American Medical Colleges)
by Sohail Bajammal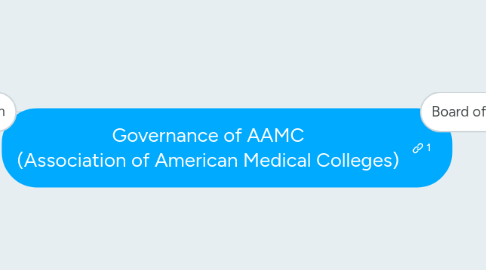 1. Board of Directors
1.1. Chair
1.2. Chair-Elect
1.3. Immediate Past Chair
1.4. President & CEO of AAMC
1.5. Chair and Chair-Elect of each AAMC membership Council
1.5.1. Faculty and Academic Societies
1.5.2. Deans
1.5.3. Teaching Hospitals
1.5.4. Health Systems
1.6. Seven at-large members to include
1.6.1. a student
1.6.2. a resident
1.6.3. a public member
2. Leadership Team
2.1. Darrell G. Kirch, M.D. President & CEO of AAMC
2.2. Carol A. Aschenbrener, M.D. Chief Medical Education Officer
2.2.1. Chief Medical Officer Carol A. Aschenbrener, M.D., explores critical issues in medical education and leads new initiatives to transform the current models for medical education and workforce preparation across the full continuum. She also leads activities that support education officers, regional medical education campuses, medical education researchers, and residents.
2.3. Ann C. Bonham, Ph.D. Chief Scientific Officer
2.3.1. Ann C. Bonham, Ph.D., directs the AAMC's array of programs that support all aspects of research and training. Dr. Bonham also represents the AAMC nationally on issues related to research and science policy, administration, workforce development and education and training.
2.4. Diana Bourke Chief Information Officer
2.4.1. In her role as chief information officer, Diana Bourke leads the Office of Information Resources, which is responsible for software development and maintenance; the AAMC data warehouse development and maintenance; the internal network and desktop environments; and the server and communications infrastructure used for development, testing, and production operations of AAMC IT services.
2.5. Gabrielle V. Campbell, M.B.A., L.L.M. Chief Services Officer
2.5.1. In her role as chief services officer, Gabrielle V. Campbell oversees the AAMC service programs, including the American Medical College Application Service® (AMCAS®), the Electronic Residency Application Service (ERAS®), the Visiting Student Application Service® (VSAS®), and the Medical College Admission Test® (MCAT®) exam. She also leads the association's business strategy to drive strategic innovation of the service programs in alignment with the AAMC's mission.
2.6. Constance M. Filling Chief Learning Officer
2.6.1. Constance M. Filling leads the AAMC's learning and leadership unit, providing AAMC members the education, training, research, and clinical care models to succeed in the newly emerging health care environment. Her team is responsible for learning and leadership development programs, member group opportunities, and Learn Serve Lead, the AAMC Annual Meeting.
2.7. Atul Grover, M.D., Ph.D. Chief Public Policy Officer
2.7.1. Chief Public Policy Officer Atul Grover, M.D., Ph.D., leads the public policy, strategy, and outreach efforts that advance the work of the academic medicine community. He also oversees the AAMC's health, educational, scientific, and other policies.
2.8. Roby A. Hunt, S.P.H.R. Chief Human Resources Officer
2.8.1. As chief human resources officer, Roby A. Hunt oversees the development and implementation of the AAMC's personnel strategy to ensure the association is attracting, developing, and retaining the top people needed to achieve its mission. Mr. Hunt is responsible for all areas of human resources, including talent acquisition, talent management, compensation, benefits, and leadership development. In this role, he is also responsible for leading the association's Human Resources Strategy Team.
2.9. Bernard K. Jarvis, M.B.A., C.P.A. Chief Financial and Administrative Officer
2.9.1. In his capacity as chief financial and administrative officer, Bernard K. Jarvis, M.B.A., C.P.A., oversees all financial operations of the association, which include the accounting, business services, and financial systems and budget units. In addition, he is responsible for human resources and the association's meeting and member and constituent services functions. As the association's financial steward, Mr. Jarvis ensures that the association has adequate resources with which to carry out its mission. He also is responsible for the AAMC operating and capital budgets, and the investment portfolio.
2.10. Robert F. Jones, Ph.D. Chief Operating Officer
2.10.1. As chief operating officer, Robert F. Jones, Ph.D., is charged with leading a team of executives who support the association's daily internal operations, including finance and administration, human resources, information technology, legal affairs, and enterprise support services; who develop and run major revenue-producing programs that support the organization's mission; and who manage research and data programs that undergird policy development and assist in institutional planning and management.
2.11. Marc Nivet, Ed.D., M.B.A. Chief Diversity Officer
2.11.1. In his role as chief diversity officer, Marc Nivet provides strategic vision for all AAMC diversity and inclusion activities through his leadership of the Association's Diversity Policy and Programs department, which focuses on initiatives designed to increase diversity in medical education and advance health care equity. Dr. Nivet and his staff are responsible for analyzing policy and regulatory activities related to diversity and inclusion, assisting medical schools and teaching hospitals with their diversity goals, and serving as liaison for diversity initiatives to membership organizations, government entities, and other health organizations.
2.12. Janis M. Orlowski, M.D., M.A.C.P. Chief Health Care Officer
2.12.1. As interim chief health care officer, Janis M. Orlowski, M.D., M.A.C.P., focuses on the interface between the health care delivery system and academic medicine, especially to how academic medical centers can leverage their expertise in research and innovation to support emerging reforms. She leads several AAMC groups, including the Council of Teaching Hospitals and Health Systems, which represents the interests of approximately 400 major teaching hospitals and health systems, including 64 Veterans Affairs medical centers.
2.13. John E. Prescott, M.D. Chief Academic Officer
2.13.1. As chief academic officer, John E. Prescott, M.D., oversees AAMC efforts that prepare and assist deans, faculty leaders, and future physicians for the challenges of 21st century academic medicine. He leads a staff that addresses critical medical school data, administrative, and operational issues; explores new models of successful mission alignment; focuses on key student and faculty issues, and supports medical school accreditation activities.
2.14. Jennifer M. Schlener Chief of Staff
2.14.1. As chief of staff, Jennifer M. Schlener oversees the functioning of the office of the president and a variety of other association-wide priorities. She stewards the work of the AAMC Board of Directors, including its committees and its bi-annual Leadership Forum. She is accountable for the development of the Medical Center Leaders Caucus and continued growth of the association's annual awards program. She facilitates the work of the AAMC staff who support the association's professional development groups, councils, and organizations, encouraging collaboration among these affinity groups.
2.15. Elisa K. Siegel Chief Communications and Marketing Officer
2.15.1. As chief communications and marketing officer, Elisa K. Siegel leads the AAMC's efforts to advance public understanding and support of medical schools and teaching hospitals and their contributions to the nation's health. Her team manages the association's earned, paid and social media; strategic and advocacy communications campaigns, public opinion research, marketing strategy, brand and reputation management, digital and print publishing, and institutional advancement programming. Ms. Siegel also serves as the national communications co-chair of the Coalition to Protect America's Health Care, a national coalition of hospitals and health care providers that educates policymakers and the public about financial challenges facing the nation's hospitals. In addition, she serves on the board of directors of the Public Affairs Council.
2.16. Frank R. Trinity, J.D. Chief Legal Officer
2.16.1. Chief Legal Officer Frank R. Trinity, J.D., provides guidance and counsel to the AAMC Leadership Team, Board of Directors, and staff in support of association activities and long-term strategy. He manages the association's legal function, oversees its intellectual property portfolio, and coordinates its litigation and risk-management activities. Mr. Trinity also serves as the association's Chief Privacy Officer.