Alexandra Ponomarenko "The Devil Wears Prada"
by A l e x a n d r a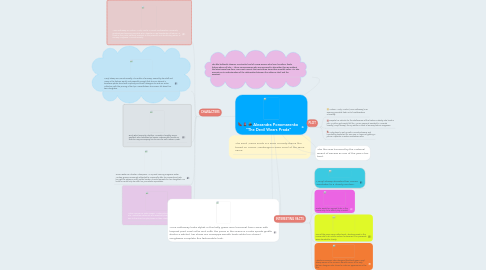 1. The Devil Wears Prada is a 2006 comedy-drama film based on Lauren Weisberger's 2003 novel of the same name.
2. PLOT
2.1. Andrea "Andy" Sachs (Anne Hathaway) is an aspiring journalist fresh out of Northwestern University.
2.2. Despite her ridicule for the shallowness of the fashion industry, she lands a job "a million girls would kill for," junior personal assistant to Miranda Priestly (Meryl Streep), the icy editor-in-chief of Runway fashion magazine.
2.3. Andy plans to put up with Miranda's bizarre and humiliating treatment for one year in hopes of getting a job as a reporter or writer somewhere else.
3. The film brilliantly skewers a particular kind of young woman who lives, breathes, thinks fashion above all else ... those young women who are prepared to die rather than go without the latest Muse bag from Yves Saint Laurent that costs three times their monthly salary. It's also accurate in its understanding of the relationship between the editor-in-chief and the assistant.
4. CHARACTERS
4.1. Anne Hathaway as Andrea "Andy" Sachs: a recent Northwestern University graduate and aspiring journalist who, despite no real knowledge of fashion, is hired as the junior personal assistant to the powerful and demanding editor of Runway magazine, Miranda Priestly.
4.2. Meryl Streep as Miranda Priestly: The editor of Runway. Feared by her staff and many in the fashion world, and powerful enough that she can discard a $300,000 photo shoot with impunity and lead a designer to redo an entire collection with the pursing of her lips. Nevertheless, she cares a lot about her twin daughters.
4.3. Emily Blunt as Emily Charlton: Miranda's haughty senior assistant, who tolerates her boss's rudeness and insults so that she may accompany her to Paris for Fall Fashion Week.
4.4. Simon Baker as Christian Thompson: An up-and-coming magazine writer Andrea grows increasingly attracted to, especially after his connections help her get the advance Harry Potter books Miranda requests for her daughters. He hints he could help her with her journalistic aspirations.
4.5. Adrian Grenier as Nate Cooper: Andrea's boyfriend, a chef at a Manhattan restaurant who eventually breaks up with her due to the strain her job places on their relationship.
5. The film was honored by the National Board of Review as one of the year's ten best.
6. INTERESTING FACTS
6.1. Meryl Streep donated her movie wardrobe to a charity auction.
6.2. Gisele Bündchen agreed to be in the movie only if she didn't play a model.
6.3. One of the prop Harry Potter book 7 bindings used in the movie sold in an online auction for $586.00. The proceeds were donated to charity.
6.4. Valentino Garavani, who designed the black gown Meryl Streep wears in the museum benefit scene, is the only fashion designer who chose to make an appearance in the film.
7. Anne Hathaway looks stylish in this kelly green wool overcoat from Lewin with leopard print cowl collar and cuffs, the purse in this scene is a Kate Spade giraffe doctor's satchel, her shoes are Giuseppe Zanotti heels while her Chanel sunglasses complete this fashionable look.