Who Am I? -Rachael
by Rachael Kayley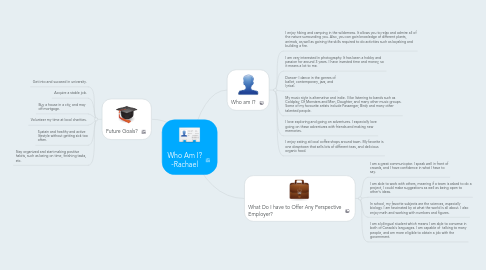 1. Who am I?
1.1. I enjoy hiking and camping in the wilderness. It allows you to relax and admire all of the nature surrounding you. Also, you can gain knowledge of different plants, animals, as well as gaining the skills required to do activities such as kayaking and building a fire.
1.2. I am very interested in photography. It has been a hobby and passion for around 3 years. I have invested time and money, so it means a lot to me.
1.3. Dancer- I dance in the genres of ballet, contemporary, jazz, and lyrical.
1.4. My music style is alternative and indie. I like listening to bands such as Coldplay, Of Monsters and Men, Daughter, and many other music groups. Some of my favourite artists include Passenger, Birdy and many other talented people.
1.5. I love exploring and going on adventures. I especially love going on these adventures with friends and making new memories.
1.6. I enjoy eating at local coffee shops around town. My favorite is one downtown that sells lots of different teas, and delicious organic food.
2. What Do I have to Offer Any Perspective Employer?
2.1. I am a great communicator. I speak well in front of crowds, and I have confidence in what I have to say.
2.2. I am able to work with others, meaning if a team is asked to do a project, I could make suggestions as well as being open to other's ideas.
2.3. In school, my favorite subjects are the sciences, especially biology. I am fascinated by at what the world is all about. I also enjoy math and working with numbers and figures.
2.4. I am a bilingual student which means I am able to converse in both of Canada's languages. I am capable of talking to many people, and am more eligible to obtain a job with the government.
3. Future Goals?
3.1. Get into and succeed in university.
3.2. Acquire a stable job.
3.3. Buy a house in a city, and may off mortgage.
3.4. Volunteer my time at local charities.
3.5. Sustain and healthy and active lifestyle without getting sick too often.
3.6. Stay organized and start making positive habits, such as being on time, finishing tasks, etc.